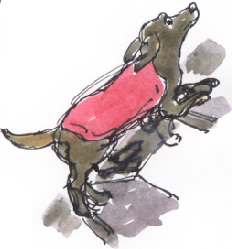 Stanley Ferry Flash
Richard Bell's Wild West Yorkshire nature diary, Monday, 12th January 2009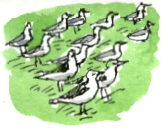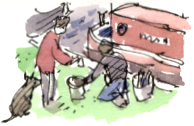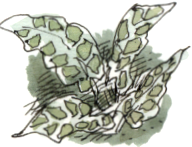 THERE ARE about half a dozen great black-backed gulls in a mixed flock of 100 or so in a field near Stanley Ferry Flash but it's not the Flash, a nature reserve that forms part of the Southern Washlands nature corridor, that's the big attraction; the massive Welbeck Site rubbish dump across the Calder valley, is, no doubt, where they will be heading to feed. At least, I've seen thousands there in the past, gathering at the dump in the late afternoon.
At Stanley Ferry moorings, a couple are making paper bricks to burn along with the logs on the stove in their narrowboat.
'It's a shame to waste them,' the woman says.
'Log' made from wet waste newspapers.
At the foot of a hedge near Clarke Hall, Arum leaves are showing. The veins are picked out by silvery bands, giving the leaves a giraffe-like patten.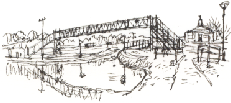 I came here on Boxing Day with my birding friends and we returned via the footbridge at Ramsden's Bridge (there's a swing-pontoon bridge beside it). I was amused to see a dachshund ascend the steps, I didn't think he would be able to do it.
'He can manage the steps all right - down as well as up,' said his owner, 'but I carry him across the top. I don't trust him on that bit!'