Common Whelk
Richard Bell's Wild West Yorkshire nature diary, Thursday, 8th January 2009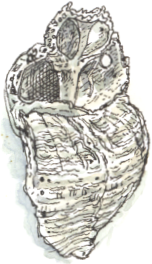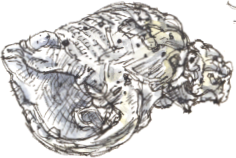 THE NOTCH at the front of the shell is for a siphon tube. The whelk uses the tube for searching out carrion - dead fish and crabs and suchlike - underwater.
Common Whelk, Buccinum undatum

Keelworms, Pomatoceros lamarcki, have constructed their keeled tubes inside the discarded whelk shell. They're members of the tubeworm family Serpulidae and they feed by spreading a crown of brightly coloured tentacles from the mouth of the tube.