Plough Team
Richard Bell's Wild West Yorkshire nature diary, Monday, 9th November 2009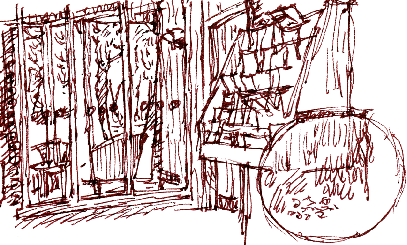 IT'S WORTH looking in the junior section in the library if you're researching the past, as well as on the regular history shelves. Children's books often give a more visual treatment but the depth of research can be equally impressive. I've long been a fan of the Dorling Kindersley approach, in effect putting a museum exhibit about each subject on a double-page spread, so crisply presented and vivid that you almost feel you can pick up the artefacts. I've taken the Eyewitness Guide to the Castle out but I'm also impressed with the historical reconstructions of the I was There series published by The Bodley Head.
I've sketched these oxen, pulling a plough from I was There, Medieval Towns. The book treads a familiar furrow, telling us how miserable life was for the average peasant, before revealing that they got every Sunday off work as well as scores of saints days a year - the original 'holy-days'.
The citizens of Paris and Florence enjoyed a little over 100 saints days each year. They had more time off than we do!
Today's waiting room sketch is the Wakefield Hospice. That oversized goldfish bowl is a fund raising collection box.