Star Carr
Richard Bell's Wild West Yorkshire nature diary, Wednesday, 16th December 2009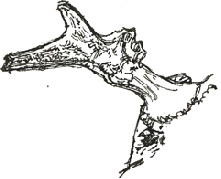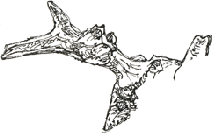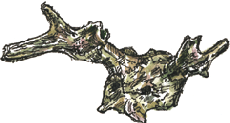 THE LATEST DATING methods suggest that there were people living at Star Carr on the shores of a lake near present-day Pickering soon after the ice sheets retreated 10,000 years ago. This was six millennia before Moses laid down the law, seven millennia before Buddha and eight before Jesus and Mohamed handed down their teachings to us. But these lake dwellers shared our intelligence and, I guess, had the same urge to find some kind of meaning in life and the world around us. Like modern hunter gatherers they probably had a system of beliefs based on a working knowledge if the natural world.
Twenty-one of these red deer antler masks were found with holes drilled in them which could have been used to attach leather thongs. It's possible that they were used as head-dresses as part of a 'stalking horse' camouflage used when hunting or - and I'd go for this explanation - that they were used in some kind of ritual of sympathetic magic. Some of the descendants of the first people of North America and Australia could probably make a good guess as to their use.
'Last Ditch' Dig
To me they're our Yorkshire equivalent of the crown jewels - well probably more important than those baubles and trinkets! - the jewels go back only half an millennium or so, thanks to King John supposedly losing the originals in the Wash. Unfortunately after 10,000 years of preservation in the peat of the Vale of Pickering the Star Carr site is now drying out. It's hard to believe that when you see the flooding that hit Pickering in recent years but as field drainage improves the peat is shrinking.
Only 5% of the Star Carr site has been excavated, so I wonder what other treasures are desiccating as I write this. Hope somehow it's possible to fund a rescue dig.
I really would have liked to have made a pilgrimage to the British Museum to draw the actual artefact but for the purposes of my booklet I've had to make do with drawing from the on-screen image on the British Museum website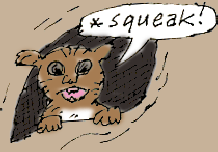 I couldn't hear anything but Barbara could. Now that I'm used to wearing my new hearing aids I leave them out unless I'm going anywhere, to save the batteries. But I took a second look at the repeat of Life last night, this time with my hearing aids in. I could hear the the call of the tarsier - or at least I could hear 80% of them, the last couple of calls were apparently still beyond my range although Barbara said they sounded exactly like the other calls.
On the basis of that, you could say that I'm getting more 'natural' hearing with my hearing aids in than out. Isn't the National Health Service wonderful? An American friend tells me that there digital hearing aids cost thousands of dollars so many people do without, and, as an illustrator and writer, I certainly couldn't afford that and I'd just have to cope with this minor disability.
Wearing them, I'm perceiving more of the world around me - which is the main thing that I want out of this life.
I had to make three attempts to get the proportions right, drawing freehand from an on-screen photograph. I really could do with more time to settle down and draw but interruptions are more or less constant so it's difficult to settle down feeling that I won't be disturbed. That's the trouble with having a business to run and various family commitments.

It looks as if the Star Carr winter solstice cult lingered on until the present day in parts of Yorkshire.
The Call of the Tarsier
In the last of the excellent Life television series David Attenborough emphasised how important communication is to sociable primates (like ourselves, for instance!). Calling back the group at dawn after a night's foraging, the adult tarsiers emit 'a piercing screech'.