A Christmas Carol
Richard Bell's Wild West Yorkshire nature diary, Monday, 21st December 2009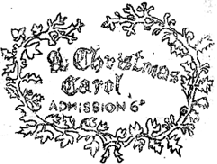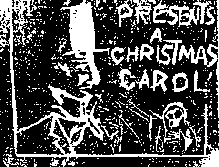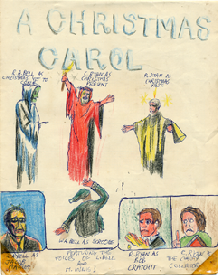 Derek needed little persuasion as he'd always wanted to play Scrooge and he eventually did take the part in the musical. He went professional and once appeared alongside Jeremy Irons in a historical drama.
Christmas Past
Even when I was fourteen, when we staged our own version, the story was an old tradition in our family. My mum had read parts of it to us, as had one of my junior school teachers, Mr Thompson. My brother Bill (Scrooge) and I planned an ambitious production with dramatically lit sets, puppets, models and some taped dialogue.
The most memorable costume was the Spirit of Christmas Past. Bill's friend Richard Ryan wore a costume made of a gold-sprayed plastic sack with a candle mounted on his head-dress which was an upturned brass bowl.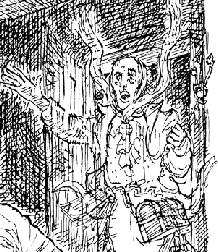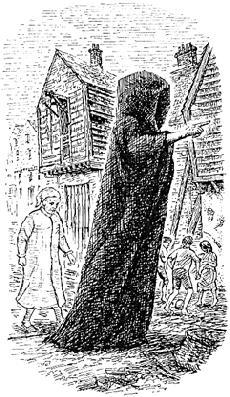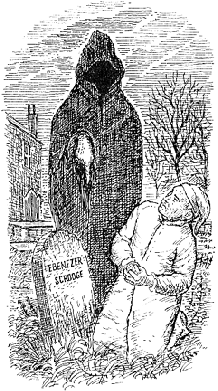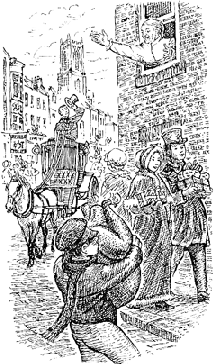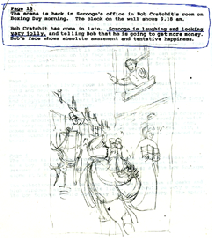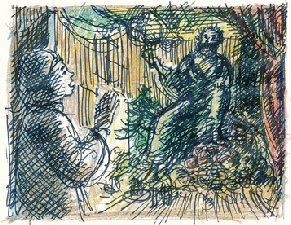 I ENJOYED the 3D version of Charles Dickens' 'A Christmas Carol' at the cinema today. The characters and settings were like the original illustrations coming to life and much as I'd imagined them when I illustrated a children's version 1987.
I was asked to do if for Bordos books in France for a series of retold classics, designed to help French children learn to read English. Anything mentioned in the text had to appear, clearly, in the illustration. The simplified retelling varied slightly from the original.
As I was concerned about keeping Scrooge and Bob Cratchit recognisable through the story I asked Ken and Derek from the local amateur dramatic group to pose in character for Polaroid photographs.
The Spirit of Christmas Past - I drew the warehouses in the background from photographs in the souvenir programme from the film 'Oliver!'.
Ticket printed with a mini-duplicator pad - like a Gestetner but in hand-stamp form.