The Night Before Christmas
Richard Bell's Wild West Yorkshire nature diary, Thursday, 24th, December 2009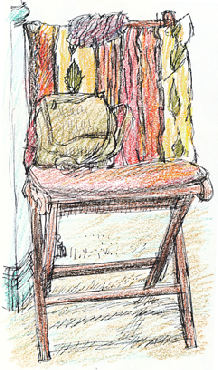 T'WAS THE NIGHT before Christmas and time, as I wait to set off for midnight mass, to draw this folding chair. The woolly hat and the cushion are Barbara's handiwork. It's an outdoor chair but it lives indoors for most of the year where it's more comfortable to sit on - when visitors appear and fill our sofas - than our pine dining chairs.
Midnight Mass
There's a choice of sacred or secular on Christmas Eve in Horbury. The Horbury Victoria Prize Band play Christmas carols at the lower end of Queen Street but I always head for St Peter's Church at the top end of the street.
Because of a strange reference to the burning of blood-stained cloaks after battle in the reading from the old testament I wrote a long piece on Israelite battle customs and the state of the world today but I've since decided that it was too gloomy for Christmas Eve so I've deleted it!
I also rambled on grumbling about some problems I'm having with my latest web design software, WebPlus X4, but you really don't want to hear about that either.
It is Christmas after all!