Tikky Graphic
Richard Bell's Wild West Yorkshire nature diary, Thursday, 31st, December 2009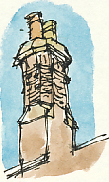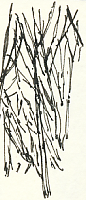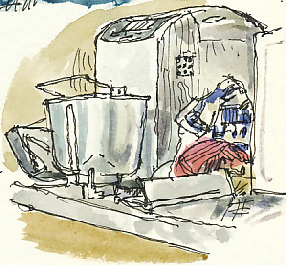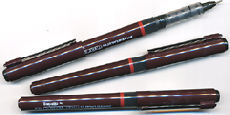 HERE'S A NEW pen that I came across at the art shop in Salts Mill yesterday; the Rotring/Paper Mate Tikky Graphic. The ink is freer flowing than the fibre tips that I normally use. It's described as having 'non-fading water resistant pigmented ink'. As you can see, there's no trace of it running into the watercolour in these sketches.
Freer-flowing is something I could certainly use with all the illustrations I have to complete in the next month!
I went for a set of three which included the largest size 8.
I also tried a Pitt Artists Pen while I was in the art shop. I was initially attracted to it as it is available in sepia but I felt it produced a softer line, nearer to watercolour than the Tikky and, at the moment, the crispness of a graphic line is what I need.
Bread-making machine at my mother-in-law's.
Chimney on Horbury High Street.