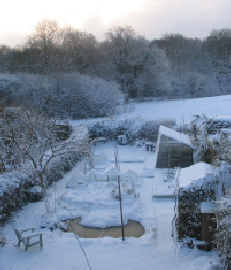 The Woodcock in Winter
Richard Bell's Wild West Yorkshire nature diary, Friday, 6th February 2009, page 1 of 2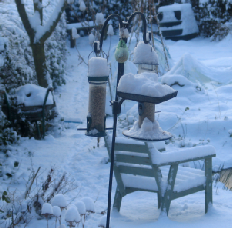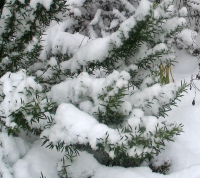 THIS IS the most snow we've had for 18 years. Our neighbours, were going to phone me the other night at 10 p.m. because from their conservatory they could see an unusual bird in their back garden; it was smaller than a pheasant, like a curlew but it had a straight bill. Unfortunately it soon flew off.
I'm sure it must have been a woodcock. We've seen them roding at the top end of the valley at Stocksmoor nature reserve many years ago. The snow must have forced them away from their usual haunts.
Roding is their way of patrolling their territory in a regular flight path at about power-line height, making a regular, repeated grunting call.
An explanation of the place name Coxley is 'woodcock dell'. The name is recorded as early as c. 1200 as 'Cockesclo'.
While Googling 'Robin Hood' for my latest walks booklet (which includes a walk along a disused railway at Robin Hood village) I found this paragraph:
"The contest between Robin Hood and Little John has two possible venues, over the River Went in West Yorkshire and over Coxley Beck, no great distance from Kirklees, and south west of Wakefield, West Yorkshire's county town."
In the early ballads Robin and his men hide in the woods of Barnsdale Forest (not Sherwood!) where the Great North Road dips down into the Went Valley at Wentbridge. Robin is said to have died at Kirklees Priory.
I'd never read of any Coxley connection but it's true that early travellers would have to cross Coxley Beck; before the north/south turnpike road became established in the 18th century the main route, what we'd now call a packhorse trail, went east/west, along the valley towards Kirklees Priory (7 miles west of Coxley Beck).