Nestbox Camera
Richard Bell's Wild West Yorkshire nature diary, Thursday, 30th April 2009, page 2 of 2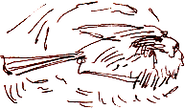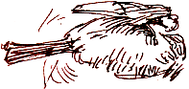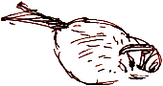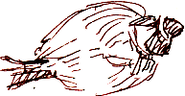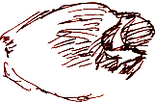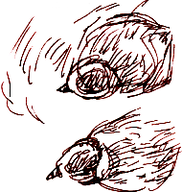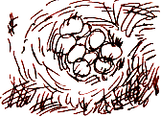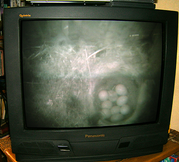 AT THE 1842 café at Armitages (see previous page), there's a large widescreen television with a live link to a CCTV camera in a nestbox.
A blue tit is sitting on 9 eggs, fluffing herself up to incubate and occasionally putting her head down into the cup-shaped nest to rearrange the eggs.
In the pets department here you can buy a nestbox, complete with inbuilt camera, for £89.
A friend e-mails me and mentions that she's now tracking the activity of a pair of garden blue tits with a nestbox camera:
"We've calculated that the eggs (which were laid one a day, last one this last Monday) should hatch from next Thursday on – so if you want to come up . . .
"The bird box is on the back of the shed, so we can sit at the window and watch the birds going in and out, and then turn our heads slightly and see inside the nest. Its very exciting."
CCTV view of my friends' garden shed blue tit box, which currently contains a clutch of 9 eggs, like the garden centre blue tits I sketched above.
Link: Gardenature Birdbox and wildlife cameras and accessories