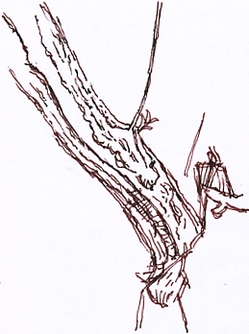 Lay-by Flowers
Richard Bell's Wild West nature diary, Thursday, 21st May 2009, page 2 of 2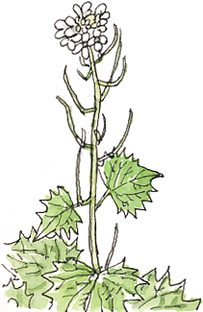 BE CAREFUL what you wish for!
I've been meaning for a while to visit the Wakefield Naturalists' Society Brickyard Reserve and this afternoon, while I was encouraging the children to draw, I was telling them that - however drawing I do - I always wish that I could do more.
I got my opportunity as I drove back home from the school; the clutch cable broke, luckily just as I was approaching a leafy lay-by just to the west of West Bretton, right alongside the Nat's nature reserve.
I made the most of the hour or so before the AA roadside rescue got me back on the road by drawing wild flowers and a willow. Not quite what I had in mind for drawing at this location but, as I invariably have my art bag with me, I was able to take the opportunity.
I was even able to look up the Latin names as only last week we put copies of the Collins Gem Guides to Wild Flowers, Trees and Birds in the glove box.
Garlic Mustard or Jack by the Hedge, Alliaria petiolata, growing in the shade of hawthorns, oak and sycamore at the side of the lay-by.
Herb Robert, Geranium robertianum, a member of the Cranesbill family here in a shady woodland edge setting but it will also grow in drier situation, such as crack in walls and rocks and on shingle.
The leaves when crushed have a strong smell which somehow reminds me of metal polish, perhaps with a hint of mice!
Crack willow in damp hollow by the lay-by.