Circling round the Stems
Richard Bell's Wild West Yorkshire nature diary, Friday, 4th September 2009
A LARGE artificial (though I didn't realise that the first time I drew it!) weeping fig stands in the middle of our health centre waiting room. An attraction to toddlers, two of whom examine the chippings in its pot and squeeze between the ends of the benches to circle around it.
Children of that age are always investigating. Hope the urge stays with them and they become naturalists.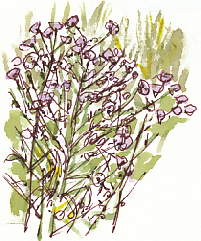 A month or two ago we discussed pulling up the Michaelmas Daisies (right), assuming, before they came into flower, that these tall, slender-leaved plants, had grown from spilt bird-seed.
I'm glad we gave them a chance!
Michaelmas falls on the 29th September.