Looking & Seeing
Richard Bell's Wild West Yorkshire nature diary, Monday, 7th September 2009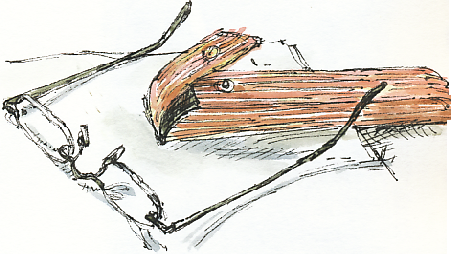 'WE HUMANS are blessed with better noses, ears and eyes than we often give ourselves credit for. Most of us walk about looking but not seeing, hearing but not listening and sniffing but not smelling. Train yourself to use what nature gave you effectively.'
Nick Baker,
The Amateur Naturalist
THESE SUPERMARKET reading glasses, currently on offer at Lidl for the price of a café latté, are perfect for drawing as I can have them perched on my nose so that my sketchbook is in focus but I don't have to tilt my head to look up at my subject. My regular glasses have a wider field of view for reading but this small pair will now be going everywhere with me, in my artbag.
They feel more secure to wear than the fold-up glasses I used a few years ago and in their slim case they don't take up quite as much room in my bag.
With these glasses I've gone up a notch dioptres. My prescription is currently 1.75 but these are a little more powerful at 2.0. It was a revelation as soon as I put them on; I could see such crisp, clear details - down to individual fibres - in the stripy knitting of Barbara's cardigan.
Cyber Look glasses by Filtral, Fürth, Germany
Aubergine plant on the patio. I'll be amazed if we get any auber-gines now.
This is the first drawing I did with the new glasses.