Away above the Chimney tops
Wild West Yorkshire, Wednesday 20 October 2010
previous | this month | next
JACKDAWS love the Victorian chimney pots of Horbury and this afternoon there are 12 of them in a loose flock. I'd expect such a gathering to be making more noise but there's just the occasional 'Tchak! - tchak!' call.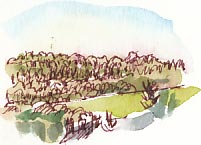 According to Wikipedia, two old terms for a group of jackdaws were a 'clattering' — which sounds appropriate — or a 'train', which is intriguing; it could refer to the way they follow each other but another meaning of train is trick or strategem which comes from the old French traïne, meaning guile, deceit or ruse (Shorter Oxford English Dictionary) referring to the jackdaw's reputation as a thief or trickster, famously portrayed in Thomas Ingoldsby's satirical fantasy poem The Jackdaw of Rheims.
The sentence "Jackdaws love my big Sphinx of quartz" is an alternative to "The quick brown fox jumps over the lazy dog" as a sentence that contains every letter of the alphabet. The jackdaws with 31 characters in the sentence are slightly more concise than the brown fox which has 35.
Poplars
I drew the jackdaws and the trunk of the large horse chestnut tree (left) in the shopper's car park in Horbury but I sketched the poplar trees from a photograph that I'd taken on the way up. Working from the little LED screen of my camera in a poor light I haven't succeeded in getting the ochre colour of the middle trees which were thrown into striking colour contrast by the clear blue sky behind them.
Angles shades moth
At the weekend, I spotted this moth as I was filling a watering can at the butt in the corner of the patio. It was low down, resting on the mortar of the house wall and I got the impression that it was in the process of drying out its wings after emerging from a pupal case but this might just have been because a draught was making their margins tremble.
The angle shades moth has taken cryptic camouflage to an advanced level; it not only looks like a dead leaf but it normally holds its wings at a particular angle that further improves the resemblance.
Richard Bell, illustrator
previous | this month | Wild West Yorkshire home page | next