The Little Don
Wild West Yorkshire, Friday 5 November 2010
previous | this month | next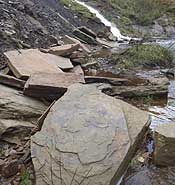 THE RIVER LITTLE DON, also known as the Porter, flows into the top end of Langsett Reservoir. On the outside bend of a meander it is undercutting the small anticline (the grey cliff in my picture above) which I drew a year ago. Fresh blocks of the flagstone from the arched bed at the top of the cliff have plummeted down to make a crazy pavement by the water's edge. After recent rains, the gully down the side of the cliff has a frothy cataract running down it.
The jumble of flagstones (left) is like a small-scale version of piled up slabs of rock that have been put in place to protect the concrete sea wall at the foot of West Cliff, Whitby. Perhaps this new obstruction is deflecting the current as the Don is beginning to try out a short cut across the meander through the stand of pines, coming out downstream from the cliff through a gash in the riverbank, to the right of my panoramic photograph.
The rushing water and tumbling rocks show that the landscape isn't set in stone; it's dynamic, giving it a wild, natural look. It's so refreshing to be back here again, in a corner of Peak National Park wilderness, and, as always, I'm astonished that we can set off from home and walk down here to the river in just one hour.
Plantation and Grouse Moor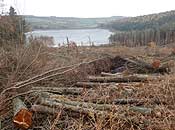 Although it's so wild looking, the surrounding landscape is the result of management. Clear felling of two sections of the conifer plantations (left) has opened up views from the moorland track right down to the reservoir.
We've allocated ourself the whole morning rather than our usual one hour emergency escape so we're able to head off up over the moors, passing the ruin of a farmhouse known as North America (presumably because it was so remote).
There isn't as much fungi around as there was on our visit last month, so I'm glad I photographed them when I had the chance but I spot a small earthball fungus (right) on the turf by the track at the edge of heather-covered moorland. Perhaps the rabbit droppings around it are a source of organic matter along with a few red grouse droppings (below right) that were also lying on the turf. There are reasonable numbers of red grouse around, calling to each other across the moor with variations on their 'go-bak, go-bak, go-bak!' calls.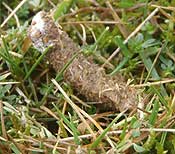 We're heading for lunch at the Bank View cafe but from here you could set off across the moor then drop down to the top end of Derwent Reservoir. I guess that would take an hour or so but you'd then end up coming out at the Ladybower pub and you'd need to find some way of getting back to your starting point at Langsett car park. Ever practical, but inadvertently turning poetical, Barbara suggests a solution:
"You could come here with a friend
and leave a car at either end."
Richard Bell, illustrator
previous | this month | Wild West Yorkshire home page | next