Waxwings in Ossett
Wild West Yorkshire, Monday 20 December 2010
previous | this month | next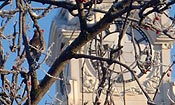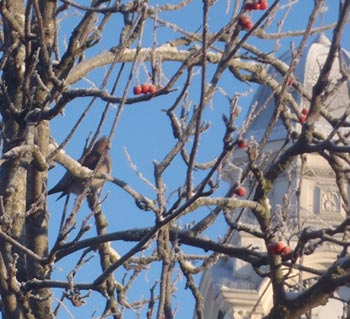 THAT'S HANDY; the town hall clock records the time of day. I'd popped into the travel agent's and asked for a holiday destination where Barbara and I can go to see wildlife and when I came out, in what seemed like a lucky omen re. our planned trip, three waxwings flew down into a small tree right in front of me. I had time to get out my little camera and take three photographs. Terrible as wildlife photographs but at least it's a record. It must be at least 10 years since I saw waxwings.
This year's waxwing 'invasion' started in late October. A flock turned up on Fair Isle, an island devoid of trees, and fed on fruit held in the hand (see link below). They leave the continent to escape the harsher winters there and they're fortunate that it was a reasonable autumn and there were plenty of berries in the hedgerows and also in trees and bushes in urban settings which they seem to have a preference for. They've been seen in Sainsbury's car park in Wakefield, for instance.
The three birds in Ossett soon flew back to join another seven and they flew off to the north. I headed off in that direction and checked the small trees near the bus station and did another round of the market place but that was the last that I saw of them. They'd soon get through the remaining berries on this rowan.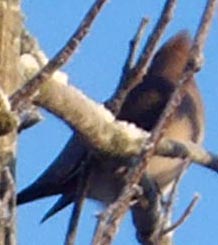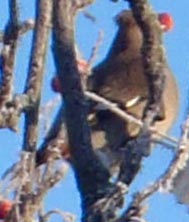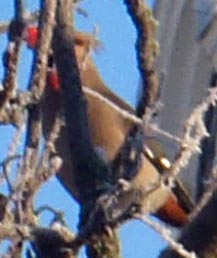 Link: Waxwings on Fair Isle
My experimental WordPress blog . Hope to be going live with this in the new year.
Richard Bell, illustrator
previous | this month | Wild West Yorkshire home page | next