A Shelter by the Birch Trees
Richard Bell's Wild West Yorkshire Nature Diary, Monday, 12th April 2010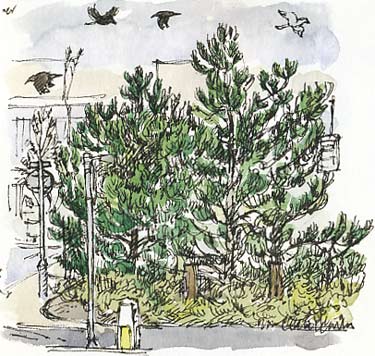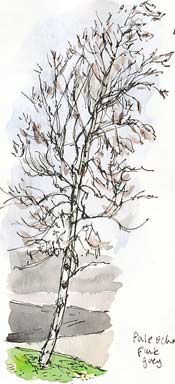 THE 'BIR' in Birstall probably comes from birki, the Viking for 'birch'. In old Norse stallr was a 'stall' for a horse (the word also means pedestal) or or a shelter for domesticated animals. I'm drawing the silver birch (right) from the shelter of Marks and Spencer's at Birstall Retail Park. The carrion crows flying too and fro every few minutes are a suitably Viking as is the large Ikea store. In Viking mythology the ravens Huginn and Muninn made daily flights from Asgard, the 'enclosure of the gods', to our world (Midgard) to keep Odin up to date with events. Victorian naturalist Charles Waterton suggested that the carrion crow, which he felt was unfairly persecuted, should be renamed the 'lesser raven'.
Built on a landfill site, the retail park dominates a small plateau to to the east of the Pennines, on the watershed between the Aire and the Calder valleys. The Calder tributaries of Nova Beck and Howley Beck cut deep valleys to the west and east.
The English civil war battle of Moorside or Adwalton Moor was fought on 30th June 1643 a mile to the north west.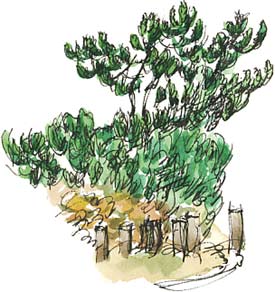 I drew the birch and alder (left) on the roadside embankment by the Bella Italia. Dunnock and blackbird foraged amongst the shrubs and the leaf litter.
The pines reminded me more of Italy or Mallorca than Scotland. I didn't take a close look to see if they had twisted pine needles but I guess they are Corsican pines. The retail estate, which makes no attempt to echo the building traditions of the neighbouring Victorian towns, could easily be anywhere on the continent. In particular, the janitor's booth next to these pines looks exactly like one of the booths you see at an airport or ferry terminal.
But today I want to draw trees not buildings. I've re-packed one of my artbags - a floppy canvas bag from River Island - with an A4 sketchbook and I'm enjoying have a larger page to spread my drawings across. I feel that the format allows a lighter, airier space around my drawings. Just right for spring.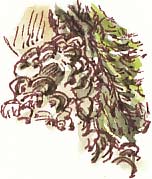 The bracket fungus on an ash stump (right), which I sketched on a brief stop at Barbara's mum's, seems more like a reminder of autumn but makes the point that I'm hoping to immerse myself in drawing natural history subjects again after all my indoor projects during the winter and early spring.