Walks in Robin Hood's Yorkshire
Richard Bell's Wild West Yorkshire Nature Diary, Wednesday, 28th April 2010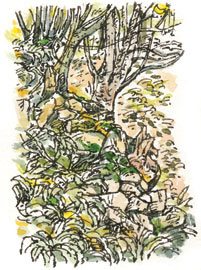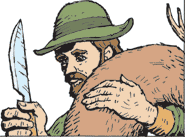 "My dwelling is in the wood." sayes Robin.
"By thee I set right nought:
My name is Robin Hood of Barnsdale.
A fellow thou hast long sought."
Robin Hood and Guy of Gisborne
ROBIN HOOD IS famous for this skirmishes with the Sheriff of Nottingham in Sherwood Forest but if you go back to the earliest ballads you find that the trail leads to Barnsdale Forest, 50 miles north of Nottingham.
How did Robin become an outlaw? Where did his rivalry with the Sheriff begin?
These six walks and two short town tours follow in the footsteps of a Yorkshire Robin Hood . . . and, more surprisingly, a Yorkshire Sheriff of Nottingham!
Today I've been working on my press release for the launch of the booklet (see below). Hope I'll see you there!


Press Release, 28th April 2010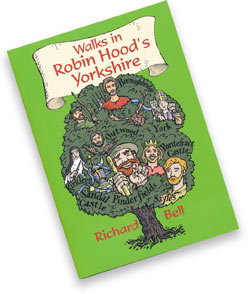 Walks in Robin Hood's Yorkshire, a new 32 page full-colour booklet written and illustrated by Richard Bell, invites you to explore the real-life locations that feature in the early ballads, including Robin's look-out post at Sayles (top, on the right) in Barnsdale Forest, the Pinderfields of Wakefield, St Mary's Abbey in York and the scene of Robin's death at Kirklees.
The connection with Wakefield may go deeper than Robin's fight with George-a-Green, 'The Jolly Pinder of Wakefield', celebrated in the ballads; the 14th century Robert Hode, also known as Robin Hood, was a Wakefield man, as, for a time, was his contemporary, Henry de Faucumberg, who, despite appearing in the town's courts accused of theft and of refusing to take an oath, rose to become Sheriff of Nottingham and Sheriff of Yorkshire.
The town was caught up in the feud between John, Earl de Warenne, Lord of the Manor of Wakefield, and Thomas, Earl of Lancaster. There is historical evidence that the subsequent rebellion of 1322 against Edward II was the pivotal event the fortunes of the Wakefield 'Robin' and his fellow townsman, the Sheriff. The book brings the period to life in historical comic strips while the walks take you to the scenes of a siege, a battle and a mock-trial - at Sandal Castle, Boroughbridge and Pontefract Castle (only 5 miles from the ballad location for Robin Hood's camp in Barnsdale).

Launch: 11 a.m. - 12 noon, 15th May 2010, Wakefield Tourist Information Centre, Tel. 01924 305 775, on the Bull Ring (where Robert Hode bought a plot of land from the Earl in 1316).
20th - 22nd May: A Taste of Robin Hood's Yorkshire: sample local, traditional produce at the Black Olive deli and coffee shop, Queen Street, Horbury, www.theblackolive.co.uk Richard will be signing copies of his book at the Black Olive at 11 a.m - 12 noon on Saturday 22nd May
The book is now available, price £2.99, via your local bookshop or online via my Willow Island Editions website (postage currently £2).
Walks in Robin Hood's Yorkshire ISBN 978-1-902467-19-1