In the Bag
Richard Bell's Wild West Yorkshire Nature Diary, Wednesday, 23rd June 2010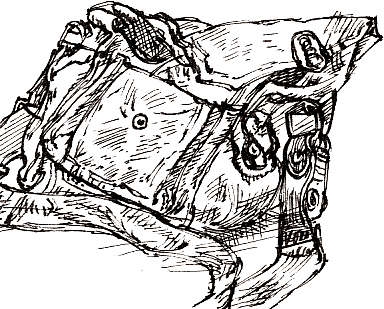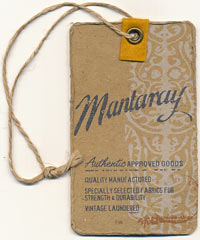 MY NEW art bag has proved versatile. This size is for an A5 sketchbook, watercolours and my Olympus Tough camera slots into the zippered pocket inside. After dragging Barbara around Leeds looking at dozens of bags, I finally came across this Mantaray brown cotton utility back. According to the label, they support the Marine Conservation Society. Here are the sketches, not so many of them, over the last month or so. I've done lots of drawing, for my latest booklet, just not in the sketchbook.

Rough Patch Workshop
In May, I led a drawing workshop based on my garden sketchbook Rough Patch at some immaculate vegetable allotments next to the churchyard at Lindley, Huddersfield. The day was the wettest for weeks and we sheltered under umbrellas, awnings and pop-up tents, while Simon Pedley, who had organised the event for Kirklees Council countryside service, put on a brew using a storm kettle; the double-walled kettle is the shape of a small milk churn. It acts as a funnel for the fire - not much more than a few sticks of kindling - in a dog bowl-sized container beneath.
Simon always gathers a small supply of twigs so that he's got dry wood the next time he uses the kettle. When he's out working with a group, he's invariably far away from any power source. He tells me the storm kettle design was originally used by Irish fisherman.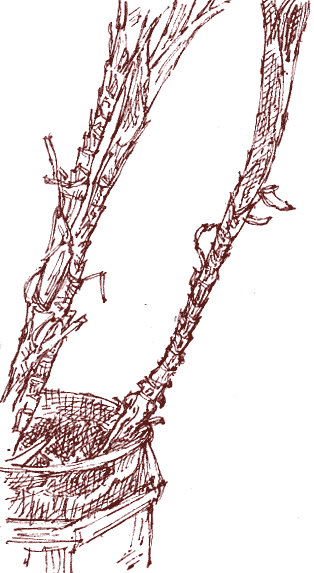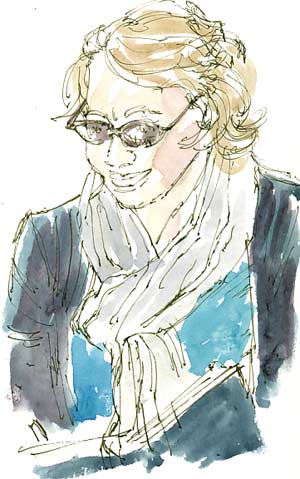 There wasn't much opportunity for me to offer advice in the cramped conditions but I noticed that the most frequent problem my sketchers had was when they drew the church tower: they straightened out the perspective when they drew the battlements. If the weather had been better I might have started them off with a simpler subject such as a shed and we could have worked our way on to the church tower. I don't actually believe that correct perspective is the vital element in bringing a drawing to life. When you take these workshops, you always learn more from your students than they learn from you. For instance one student pointed to the swirly pattern of algae on a shed door at our shady end of the allotment. It was an abstract design in itself and something I wouldn't have homed into as a subject.
Sketchcrawl in the Sun
After spending the morning saying to each other 'I think it's getting brighter now', we realised that the rain had set in for the say so, cold, wet and dripping, I let my students drift off after a picnic lunch. In complete contrast, the Wakefield Sketchcrawl organised by my friends Helen Thomas (left) and John Welding was blessed with sunny weather. I felt a bit bad because I had something else on and I joined the group for lunch at the Mocha Moocho, sitting out at café tables, in true sketchcrawl style. So much nicer than sheltering under a dripping tarpaulin on an allotment!
The Waterton Collection
Actually, I did join them just before the lunchbreak at Wakefield Museum where I drew these two items in the Waterton Collection, the Nondescript, a missing link created by Victorian naturalist Charles Waterton and this small quiver of blow-pipe darts which he collected on his travels in Guyanna (the British Guiana), South America.

Here are a few more drawings from the A6 sketchbook that I've been using: on the bus back from town, in a Thai restaurant and Sox the bookshop border collie.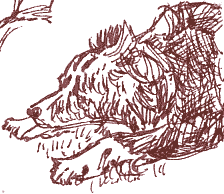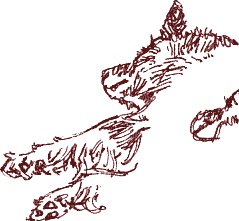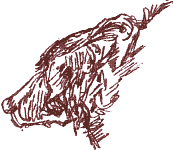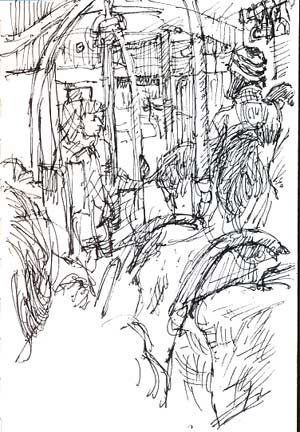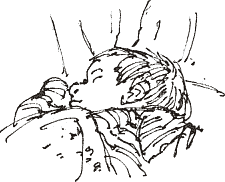 This is Martha, aged one month, a new arrival next door.