High Dependency
Richard Bell's Wild West Yorkshire Nature Diary, Sunday, 18th July 2010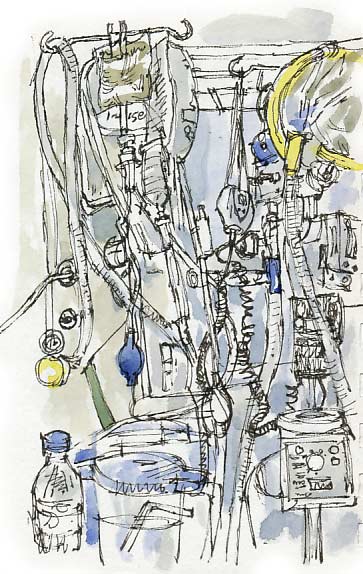 THE PARAPHERNALIA of the High Dependency Ward looks pretty complex but this drawing includes those bare essentials for life; the bottle, jug and mask that supply the patient with water and oxygen. I'm impressed how similar the approach of the medical team last night was to that of the experienced mechanic who services our 10 year old car. They came up with straightforward, practical solutions that come from a depth of knowledge and years of experience; in this case getting around the problems of delivering oxygen and water in the correct proportions.
One doctor explained that the effect of a machine that forces oxygen into the lungs was the equivalent of leaning out of a moving car; it forces the air into your lungs.
We're familiar enough with our digestive system as an interface between ourselves and our environment but the moist membrane through which oxygen is transferred directly to our bloodstream is out of sight and, to some extent, out of mind. It's only when things get out of balance that the medical teams have to move in with a life support system that wouldn't look out of place in an Apollo space capsule.
When I'd had enough of the man-made still life possibilities of A&E and Resuscitation last night, I reverted to drawing my left hand. Unlike the Kielder Water sketches last week (doesn't that seem a world away now?!), the colour was added to these at the time, as Barbara, familiar my limited skills as a hospital visitor, had thrust my brown art bag at me as we dashed out, so I had my pocket-box of Winsor & Newton artists' watercolours with me.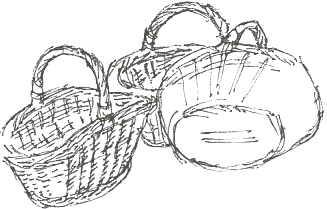 The baskets were drawn in a café earlier this week.