Paperback Writer
Richard Bell's Wild West Yorkshire Nature Diary, Saturday, 24th July 2010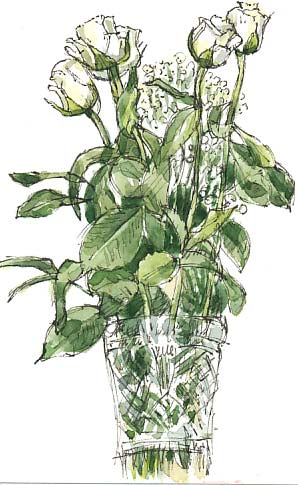 YOU CAN imagine the errands involved when a member of the family is in hospital (hence the white roses and Gypsophila, left) but this week on top of that I've been madly painting (door frames, not watercolours), lawn-mowing and getting a leaflet off to the printers. The leaflet was a freelance job that has lingered on so long, involving far more work than I'd estimated, that I've decided to finish with freelance altogether so that I can concentrate on my own booklets.
When I'm drawing or painting, the format - ink on paper or acrylic on canvas, for example - makes a big difference to my approach. The same applies to books; different formats conjure up different ideas.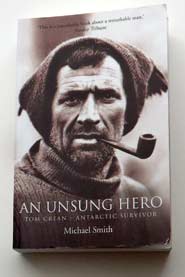 I'm now excited about the possibilities of doing a small paperback. I had a call this week from a large printing company which specialises in book production and I was impressed by the samples they sent me, which included An Unsung Hero; Tom Crean - Antarctic Survivor by Michael Smith (right, published by Collins Press).
It's taken quite a while to arrive at the colourful format of my three walks booklets but I've now got a particular subject in mind which needs a different treatment. I've been researching it on and off for at least the last six years and a few years ago I tried to shoe-horn the entire project into one of my regular formats but there wasn't anywhere like enough room for it; it read like notes for a thesis. I'd like to flesh out the bare bones of the story.
I'm such a visual thinker but there are subjects which I prefer to immerse myself in primarily in text, rather than turn pages full of visual delights. I like that approach too of course, but for different subjects. The adage is that a picture is worth a thousand words but for a narrative it can be better to let those thousand words flow along to tell the story. It can be a smoother process.
One of the pleasures of a trip abroad is going into the airport bookshop and indulging myself in a book that's purely for holiday reading. Being me, that doesn't mean a blockbuster novel; for Italy a few years ago I went for one on the evolution of the eye (sounds technical but, honestly, it was fun to read) and on a trip for Austria I went for a novel set in London at the time of the South Sea Bubble (which in the end wasn't as sharp and Hogarthian as I hoped it would be; I felt it drifted a bit into Olde England swashbuckling mode).
So, paperback; that's my new format sorted. All I have to do now is find time to write it between the 101 errands we have to run each week!
Waterbrush Casualty

I mentioned that I'd forgotten to take my waterbrush to the hospital the other day. In fact I'd dropped it and it had met with an accident in the hospital car park. When we pulled up the next evening, there it was by our parking space. It will still be usable after a bit of cleaning up but the cap is cracked as it's probably been caught under a car tyre. It's a shame there isn't an A & E department for pens and brushes.
Carrara 7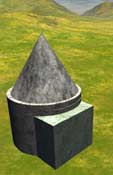 I can never resist a 3D design program on a cover disc, so I bought the latest Computer Shopper (the September edition already, whatever happened to summer?) for the full version of Carrara 7.2. It seems to be capable of doing everything that my favourite 3D landscape program Bryce can do plus a whole lot more, which is intimidating at first but, not to worry, because also included is a 775 page PDF manual (to version 6, but I guess it's pretty much the same). Also included is a complete 3D scene, Harpwood County Secret Lake by DAZ 3D artist Howie Farkes to show you what it's capable of. The render of the scene (right) took about ten minutes on my computer (the late Bob Ross could probably have painted you the same scene in that time!).
I enjoyed playing around with Carrara and I could soon put together a few basic shapes, add textures and render them (left) but I'd like to put this versatile program to some useful purpose and try to build a reconstruction of some long-gone historic building to include in one of my walks booklets. By putting together a floor plan from a Victorian map with engravings of the vanished building and adding colour from surviving structures using the same building materials I should be able to bring an old landmark, such a demolished station building or colliery, back to life again.
I know I can easily do that with a drawing but there's a tendency when drawing from imagination to go a bit misty in sections that you don't know much about. For a 3D reconstruction you have to commit yourself to a precise measurement but by being able to manipulate your 3D model to see it from different angles you can make informed guesses about how it all fitted together.
Serial Number Killer
By the way, if you buy the magazine and load the program and you are able to find a way of stopping it asking you for the serial number every time you launch it, please let me know.
Turbo Floor Plan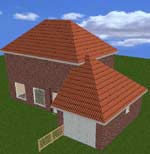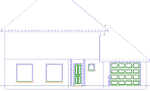 I should add that also included on the Computer Shopper cover disc is TurboFLOORPLAN Home & Landscape Pro. On first loading the program it took me minutes to design myself a new house and it even calculated the total cost of the project, including carpets as a little over £30,000 for the materials. I haven't yet worked out how to divide up the interior space, so I'll be opting for open plan living and I can't find a way to insert windows into the upper storey, but as I haven't included any stairs there's no way of reaching it anyway.