Pontefract Windows
Richard Bell's Wild West Yorkshire Nature Diary, Wednesday, 28th July 2010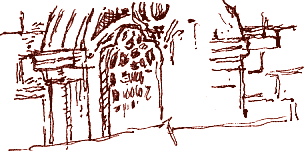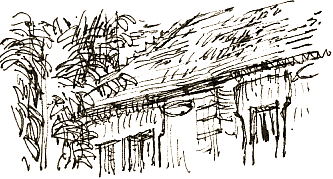 ST GILES in Pontefract gives the impression that it's a Georgian town church but go around the back and these Gothic windows suggest that it goes back to medieval times. The town's original parish church was All Saints, down beyond the castle, but that was so damaged during the Civil War siege that St Giles, which had originally been built as a chapel of ease in the town centre, was adopted as the main church.
There's no churchyard around St Giles, a pointer to its original status as a chapel. After partial restoration, All Saints is in use again today but it stands in the ruined shell of a larger structure.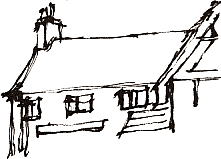 These were drawn from Pontefract Library, an airy space with views onto streets behind the church which today were busy with market stalls. The original library is now the town museum.
I briefly sketched The Shepherd's Arms, Horbury (left), when I was waiting for a few minutes in the car park on Cluntergate.