Stanley Flash
Richard Bell's Wild West Yorkshire Nature Diary, Monday, 2nd August 2010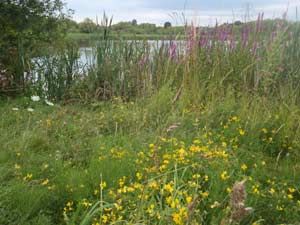 AS ONLY two visitors are allowed at visiting time and Barbara and her sister are going this evening, I've got 90 minutes to spare, so I drop them off and turn down the hill to Stanley Marsh (right). It's amazing where you can get in such a short time, even here on the fringes of Wakefield. What I dimly remember as a grey post-industrial landscape beyond the marsh is now a slope of trees, hedges and the green of fairways, as I walk down to cross Normanton Golf Course (which isn't actually all that near to Normanton).
I'm soon walking back past the hospital as I check out the circuit of my Stanley Marsh walk for the reprint of Rhubarb and descending into the Calder Valley I pause for a drink of water at Stanley Ferry Flash (top left) which is lush with wild flowers including tall magenta towers of purple loosestrife, greater willowherb (also known as codlins-and-cream), birdsfoot trefoil and meadowsweet.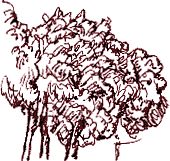 The blue berries of Oregon Grape, Mahonia (right), have a bloom like grapes. They can be made into jam, something I'd like to try some day. These were growing in the hospital car park. I like the idea that you could go foraging in a hospital car park.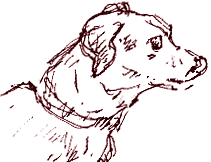 Finally, this is Izzy; friendly, well behaved but rather nervous.