Leaving Kielder
Richard Bell's nature diary, Northumbria, Friday 24 September 2010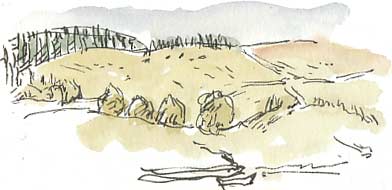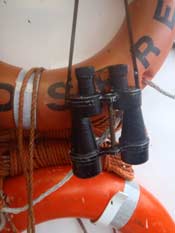 THAT'S THE TROUBLE with a holiday, you have to come back to reality, but we're taking the scenic route back to the Rhubarb Fields. You can drive up alongside Kielder Water, through Kielder village and in a few miles you're in Scotland. On our large scale road atlas it looks as if you'll find yourself going over the moors but most of the way you're finding your way through the hills via pleasant valleys. The map in my mum's 1960 copy of The AA Road Book of England and Wales shows a railway still running across the border, shortly before its closure, and the village that would be flooded by Kielder Water still sitting there with its station.
These two little sketches were drawn from The Osprey ferry as we returned yesterday. The vintage Ross binoculars were hanging by the life belts on the rear deck. I'm glad that most binoculars aren't so heavy these days!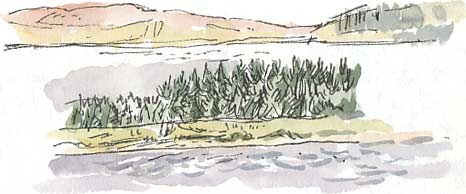 Newcastleton
We stopped for a coffee at the Olive Tree Cafe on the broad main street of the attractive stone-built 18th century planned village of Newcastleton, where I asked the Scottish waitress if there was a spot between Kielder and Newcastleton where the two acents, Scottish and Geordie, merge. No, she said; just five miles further the road you're across the border again back in England and the accent is different again but, even in Scotland, you can tell if someone comes from another town, such as Hawick (pronounced 'Hoyck') not so much because of the accent but because they'll use different words or phrases for some things.
Rheged
We passed within 5 miles of Gretna Green, near the head of the Solway Firth, as we returned home via Cumbria. As we drove one into England, Barbara spotted a couple of roe deer in a field about 100 yards from the road.
This waterfall isn't what it seems; it looks natural but it's actually man-made - part of the artificial crag that hides the Rheged Visitor Centre near Penrith.
As we returned down the M6, we glimpsed Morecambe Bay in the distance. There wasn't time to drive through the Lake District but I hope we're back with more time to spare before too long.
Links: Newcastleton , Rheged