The Study of Sherlock
Richard Bell's nature diary, London, Wednesday 8 September 2010, page 2 of 2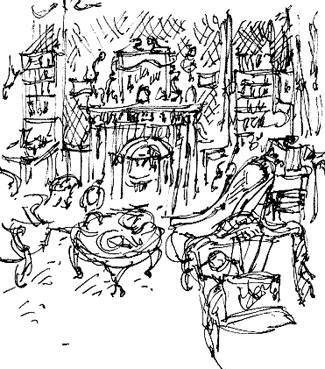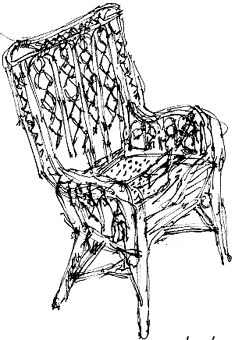 MANY OF THE VISITORS to Sherlock's study (right) on the first floor at the museum at 221b Baker Street take photographs and the more enthusiastic take the opportunity to sit in the chair by the fireplace to pose with deerstalker, pipe and magnifying glass. I took a few photographs of details that I thought might be relevant to my current research but to absorb the period atmosphere I wanted to linger a while and sketch, even though I was unable to settle down to a detailed drawing.
On the second floor, it was this cane chair (left) which attracted my attention; the label explains that it is the one which Holmes sits in in an illustration to The Greek Interpreter drawn by Sidney Paget. A group of French people who came in were so intrigued that they asked if they could photograph my drawing.
It's a rather shaky drawing because I was standing clutching my small sketchbook but it was worth doing to feel some connection with Paget who had drawn the same chair 117 years ago.
House and Holmes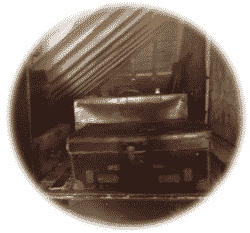 The house has been restored with such attention to detail that it can stand as a portrait of Holmes, elusive as he is. Making your way beyond the familiar, welcoming cluttered study, you encounter some of the bizarre events in the great detective's life. A battered case on the bed in Holmes room contains the kit of stage make-up that he would use when he donned a disguise; just one aspect of his hidden side. You can continue, onwards and upwards, to the attic.
"I consider that a man's brain originally is like a little empty attic, and you have to stock it with such furniture as you choose. A fool takes in all the lumber of every sort that he comes across, so that the knowledge which might be useful to him gets crowded out, or at best is jumbled up with a lot of other things, so that he has a difficulty in laying his hands upon it."
Sherlock Holmes, A Study in Scarlet, 1887
'I have it here in my museum'


Yes, and a most remarkable bird it proved. I don't wonder that you should take an interest in it. It laid an egg after it was dead -- the bonniest, brightest little blue egg that ever was seen. I have it here in my museum.
Sherlock Holmes, The Adventure of the Blue Carbuncle, 1892
These blow-pipe dart quivers are typical of the odd exhibits related to his investigations; they're mentioned in The Sign of Four and in The Adventure of the Sussex Vampire.
The Streets of London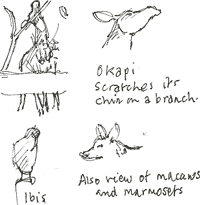 I didn't have much time to linger on my walk through some of the Holmesian streets of London as I made my way to my bed and breakfast accommodation at the High Holborn Residence of the London School of Economics (worth considering if you want a central base in the city) but as 221b overlooks Regents Park, I made a bit of a detour around the zoo and made the briefest of sketches of some of the animals you can see if you walk around it along the towpath of the Regents Canal.
There was a terrific downpour when I reached the Tottenham Court Road and I took shelter in Jack Horner's Ale & Pie House, a suitably Sherlockian location where they do a nice pot of tea, if you're not in the mood for Ale and Pies.
Close Encounters with Monty Python . . . and one of the Goodies

It took a while for the deluge to pass over and when I set off again down Tottenham Court Road at the next crossing I came face to face with Bill Oddie holding a large umbrella and negotiating a puddle by the curb. My instant reaction was to say hello but he must get people stopping him all the time, so I resisted the urge but I would have liked to have said how much I've enjoyed his work from I'm Sorry, I'll Read that Again to The Little Black Bird Book.
I remember seeing his fellow performer on I'm Sorry, John Cleese as I walked in Hyde Park one day when I was a student. When you suddenly see someone who you've often watched on television it can feel as if you know them, so I found myself looking at him as I walked along Rotten Row, thinking something along the lines of 'Yes, that is him . . . and he does look as tall in real life . . . and isn't that Connie Booth . . . '
By which time I realised that John Cleese had fixed me with a stare as he walked towards me! Terrifying! I smiled weakly and turned off towards the Serpentine.
Years later in a series on The Face, Cleese explained how he detested people staring at him, then he paused briefly to take out a gun and shoot a particularly annoying fan who had started shouting at him from across the road! In reality, I can testify that even when unarmed he can stop you in your tracks at fifty paces.

London isn't Barbara's favourite location for a relaxing break, especially as I tend to walk for miles all over the western side of the city, so I'm on my own for dinner at the Caffe Uno on Charing Cross Road. It's nice to have time to draw between courses but I miss having someone to talk to about the day's events.
It's strange to be back in London's theatre-land; I rarely head for this end of town. From my 10th floor room in the High Holborn Residence, there's a view that includes Big Ben, Nelson's Column and the Imperial College tower. I wish I had time to draw it. Not all of it of course but some of the nearby roofscapes. My room overlooks a much lower roof garden which is perhaps the size of two tennis courts. It includes little huts, enclosures of tall grasses and two beehives, topped with bright steel-sheet roofs.
The Secret of Sherlock Holmes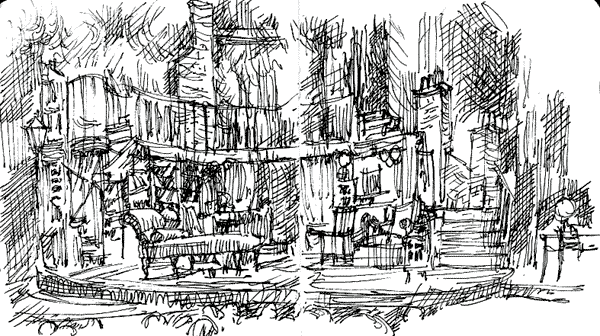 The Duchess Theatre, 8 pm. Another chance to draw the consulting rooms at 221b but not at the Museum, this time it's the atmospheric set by Simon Higlett, lighting design by Matthew Eagland, sound design and music by Matthew Bugg. Blue mist swirled gently above the stage and parts of the set disappeared into the gloom. The mist appeared in other guises later in the play; as a single plume of coal smoke from a chimney then as a mighty cascade to represent the Reichenbach Falls. The were frequent changes of intensity and warmth of the light as the mood of the play changed.
Links: Sherlock Holmes Museum, Nimax Theatres, High Holborn Residence