---
| | |
| --- | --- |
| Yorkshire Rock; book review | Richard Bell |
---
Bookshop
Nature Diary
Rocks
History
Gallery
Home Page
---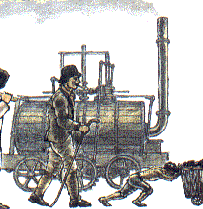 Yorkshire Rock. Richard Bell, BGS, Keyworth, 1996, softback; 64pp ISBN 0-85272-269-9 Review from the Proceedings of the Yorkshire Geological Society, Autumn, 1999;
OF ANY RECENT BOOK to be reviewed in the 'Proceedings', this surely must take first place for being truly 'Yorkshire'. Yorkshire Rock - a journey through time is just that, and it invites the reader to take some real journeys within the vast county of Yorkshire. There is something for everyone here, whether the ardent hill walker, beachcomber, or even the bored spouse who does not find shopping a 'leisure' activity, and wants something constructive to do whilst waiting at Meadowhall shopping mall!
The format of the book is the same as the BGS's well known series on 'Volcanoes', 'Earthquakes' etc, but there are several major differences. Every illustration is a drawing, map or reconstruction executed by the author himself: indeed, he has deliberately avoided the use of photographs. Fortunately, 'artists licence' has been kept within geologically accurate limits; although I did just wonder about the identity of the black-cloaked figure fleeing for cover outside St Mary's Church at Whitby!
The text is crisp and clear and will be readily understood by intelligent children and interested adults alike. The author has clearly been given his head and has produced an outstanding book, with no hint of interference by a committee.
The Code for Fieldwork is printed where it belongs - at the front of the book, and simplified geological columns on the end pages also act as a broad index.
After introductory comments regarding the northward drift of the region from its origins in the Southern Hemisphere, and a simple explanation of the Principle of Superposition, the book then follows a roughly stratigraphic order. For each period of time, characteristic rock sequences are described and the environments in which they formed are explained and illustrated. Localities where various geological and geomorphological features are best displayed are identified by grid references. Every page is most effectively laid out and simply invites being studied. It is as attractive to the uninitiated friends to whom I have shown it as it is to the geological community. Due honour is paid to some of the region's geological giants, and Adam Sedgewick, William Smith and John Phillips feature in its pages.
The book includes a good detailed index, helpful addresses and references. Admittedly, some of the drawings of rock specimens are no substitute for the real thing, but then, so many textbook photographs are equally uninformative. In general, I could find so few adverse criticisms that they are not worth mentioning, although as a southerner sojourning in Yorkshire, I did wonder if political capital might be made from the diagram showing 'Yorkshire' separately labelled from 'England and Wales' during the Ordovician!
The author is to be congratulated on an excellent production: as is the BGS for having the courage to sponsor such a new venture. But it and leave it lying around so that the non-geological members of the family will get the bug!
Peter Kennett
This book should be available through any bookseller or from the Amazon on-line bookshop.
---
Nature Diary
Wild West Yorkshire home page