Lapwings over Ikea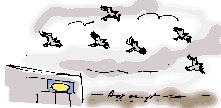 The wild world is never as far away as you might think in West Yorkshire. Just look up at the grey sky as you cross the Ikea, Leeds, car park. A flock of fifteen lapwings circle over open, exposed, pasture around the car park.

A wagtail bobs down from the vantage point of a lighting tower. A black-headed gull flaps unhurriedly over, on the look out for something to scavenge. The nearby rubbish dump, which a couple of years ago attracted gulls in their thousands, is now being landscaped.


Three roundabouts and a motorway junction lie close by, making this out of town superstore something of a symbol of the way the local community is giving way to the corporate and international. But the success of this particular store seems to me to derive from strong local roots, albeit roots local to Scandinavia. A lot of the items would not look out of place in the idealised old style farmhouse seen in the illustrations of Larson (the Swedish artist not the 'Far Side' cartoonist).

The delicious 'traditional Swedish Christmas buffet', currently on offer at the Ikea restaurant, boasts five courses and perhaps 50 different items which, put together, would give a naturalist a fair idea of the landscape in which the tradition grew. Pickled herrings, pickled cabbage, preserved summer fruits, spicy sausages, hams and cheeses conjure up for me an image of long summer days of productivity followed by long hard winters. The winter festival of light is no doubt older than its present Christian guise. Ikea was selling bottles of Glogg, a kind of punch served hot at special parties on winter evenings. As good a way as any of getting through the long nights close to the Arctic Circle.


Ikea is not the first Scandinavian invader to these parts. Besides the Scandinavian fieldfares and redwings that winter here there has been a local Danish presence for over a thousand years. While most people these days think of its location in the abstract terms of junction 27 of the M62, the Ikea store has an address which reveals something of the history of the landscape. It is on Holden Ing Way, Birstall, Batley.

Holden is Anglo Saxon for a deep valley,
Ing is grassland or a marshy meadow,
Birstall was the 'site of a fort',
Batley was 'Bata's wood', while
Leeds was 'a river district' in the Forest of Elmet.
Until the about the time of the construction of the M62 in the 1970s this county district of Yorkshire was known by the Viking term 'riding', the West Riding of Yorkshire, a 'thirding' of the county. At junction 28 a few miles to the east lies Tingley, a Viking meeting place, the 'meadow where the Thing takes place.' This term crops up at Thingvellir in Iceland, where the annual event still takes place, and, I should think, also at Tintagel in Cornwall.

Lee Gap Fair, Britainís oldest surviving horse-fair, had itís origins in Viking times. King Stephen granted it a charter in 1136. It is currently held at West Ardsley, only a mile or two from Tingley.

Speaking geologically, Thingvellir, is a rift valley on the Atlantic ridge where the North American plate is rifting from the European plate. Deep below Tingley a fossil lobe-finned fish was found which was named after the Colliery at which it was found; Rhabdoderma tingleyense.

Next day
A previous diary page.
Nature Diary
Wild West Yorkshire home page
Richard Bell's Nature Diary, Tuesday 1st December, 1998