Summer Grasses
Wild West Yorkshire nature diary, Friday 2nd July 1999

PINEAPPLE WEED grows on a rough track by the wood. It can stand trampling and, when crushed, smells of pineapple.
There is a bank of Wavy Hair Grass on a dry slope at the top of the wood. The fine branching stems that hold the seedheads are crimped like wavy hair. The glossy leaves look a bit like long hairs too; unusually for a grass they are cylindrical.
It grows on sandy and peaty soils, so it is found on moorland as well as in dry woods.

One of our local Curlews is back. It gives its bubbling call as it flies over the lane to the same grassy field.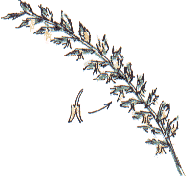 Rye Grass is in flower. The anthers hang like tiny pairs of chinos from the flowers, which are arranged along the flowerhead alternately, in herring bone fashion.
Near the Timothy that I sketched the other day, there are hundreds of heads of Catstail grass. The caterpillar-size flowerhead is only half the size of that of Timothy, but, like it, it feels furry and flexible.



A Soldier Beetle sits on Cocksfoot grass nearby.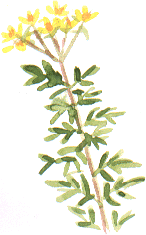 Perforate St John's Wort has just come into flower amongst the grasses by the canal. Hold a leaf up to the light and you'll see what look like lots of pin-pricks at regular intervals. They are tiny though; I use my binoculars, reversed, as a magnifying glass to see them.

On the patio table a tiny Rove Beetle opens its wing cases, unfolds its wings and performs a brief pre-flight check before flying off across the garden.
Richard Bell,
wildlife illustrator
E-mail; 'richard@daelnet.co.uk'




Next day
Previous day
Nature Diary
Wild West Yorkshire home page