Goosanders

Sunday, 14th January 2001, West Yorkshire






This Month Rocks History Workshop Links Home Page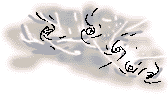 LAST NIGHT'S keen frost eases and this morning there's a dense fog over the wood.




Last March, three Goosanders (below, right) appeared on the river at Horbury Bridge and stayed around for a few weeks, diving in the rapids and resting on a small rocky island by the old weir. As we cross the bridge we pause to take a look, and Barbara spots a bird emerging on the calm deeper section of the river above the old weir.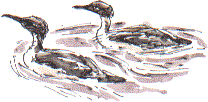 Three birds are diving in unison. From this distance in silhouette against the brightness of the water, they look like Cormorants, but because there are three of them and they're so close to the weir, I wonder if these are the goosanders.



Richard Bell,
wildlife illustrator
E-mail; 'richard@willowisland.co.uk'

Next page Previous page This day last year This month Nature Diary Home Page