Links; Wild Yorkshire and Beyond
Yorkshire Wildlife
Yorkshire Wildlife Trust manages over 80 reserves throughout the county.
A Photo Flora - West Yorkshire David Fenwick, of Meltham, is aiming, to educate, promote wildflowers, aid identification, increase accessibility through the medium of photography and the internet.
Cliffe Castle Museum a large and important collection of local natural history and geology available for people to view, research or use in a whole host of ways.
Judy Woods Heritage, near Bradford: photographs of woodland species.
Rodley Nature Reserve, wetland reserve close to the heart of Leeds
West Bretton Wildlife photography by Marcus Macaulay including local moths, butterflies and dragonflies. If you have broadband, take a look at the videos.
Incredible Edible Wakefield, creating edible gardens and wild 'food for free'.
Natural History
Flora and Fauna; an exceptionally useful site for wildlife, run by the Natural History Museum. Simply type in your (U.K.) postcode and you'll get a print-out of your local flora and fauna. This kind of information that now easier to obtain from the web than from the original reports and atlases.

Wildscenes You may have seen the work of wildlife and landscape photographer John Gardner in publications as far afield as France and the United States. Between field trips his home base is in West Yorkshire. Stunning close-up photography of our local wildlife - and of birds, animals and landscapes further afield - plus some useful advice on wildlife photography;www.wildscenes.com

Phil Chambers Consultancy a site run by Phil Chambers, a wheelchair user determined to enable everyone to enjoy countryside, wildlife and heritage sites.
www.countrylovers.co.uk 'connecting people with Britain's countryside'.
Insects
The Butterfly Garden photographs, observations and advice on plants from Linda Walls in southern England.
Hoverflies, compiled by Mark van Veen, contains links to background info and key for a number of hoverflies.

The Bumblebee Pages, compiled by L. Smith, include a guide to six species common in north east Scotland.

Alphabetical list of Bombus species, Natural History Museum, London.
Local Links
West Yorkshire
Pontefract Links on www.welcome-2-europe.com
Haworth includes information on local natural history
Holmfirth 'Your complete guide to the beautiful Yorkshire town of Holmfirth'
turning earth from a small Yorkshire garden.
Wakefield Bird Sites and wild flowers
Welcome to Wakefield including useful historical material.
West Yorkshire links in www.explore-united-kingdom.com
Yorkshire Dales
For an introduction to other aspects of the region here are some useful Yorkshire web sites, with a good selection of local links;
Daelnet home page; '... the internet gateway for the dales.'
www.daleswalks.co.uk; Walks in Yorkshire and the surrounding areas. This site is a breath of fresh air, makes me want to get out there walking the hills again.
Malhamdale; links and local information.
Malham; The Lister Arms
www.nidderdaleinfo.co.uk local information on Nidderdale, compiled by Mrs Knowles, landlady of the Miners Arms, Greenhow.
The Three Peaks Walk - Whernside, Penyghent and Ingleborough.
North Yorks Moors & Coast
Roseberry Topping 'take a look at its many moods and the magnetism of a summit truly irresistible to all who cherish landscapes and wander among the hills.'

YOGI Yorkshire Online Gateway to Information; websites recommended by libraries.

North Pennines
Yorkshire Links
Yorkshire Dialect Verse including spoken versions
Yorkshire Top 100 sites an eclectic mix of links from festivals, food, floods and football clubs to businesses and buses in Barnsley . . .
Astronomy
Dome constellation web site.

Geology
Yorkshire Books
Rickaro Bookshop of Horbury offers an internet service. All of my books in print are kept in stock - such as Yorkshire Rock and Sandal Castle - and from time to time some of my out-of-print titles such as A Sketchbook of the Natural History of Wakefield and Richard Bell's Britain are available.

Smith Settle publishes 130 titles, with more planned to cover an ever-widening area, recording many aspects of life in the North: the history, landscape and people, and culture from art and poetry to architecture and dialect.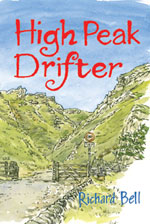 Willow Island Editions, my own imprint, includes my sketchbooks Rough Patch, Drawing on Reserves and High Peak Drifter, illustrated booklets on villages, parks and landscapes in the Wakefield area. Grandma's Guide to the Internet, written by my sister to help my mum get online proved to be a surprise success with more than 50,000 copies sold.

Charles Waterton
Waterton Park, Wakefield, was named in honour of Victorian naturalist Charles Waterton, as was Waterton Lakes National Park, Alberta.

Following Historic Trails this Alberta heritage site includes material on Waterton, Blakiston (who named Waterton Lakes) . . . including a Japanese connection.
Further Afield
Derbyshire's Wildlife and Landscapes
Lancing, West Sussex nature notes by Ray Hamblett

Gardening
Salsify and Scorzonera, an allotment diary from the Seacroft Hall Allotment site, Old York Road, Leeds.
13 Labs Garden, Chicago, 'a chronicle of the microcosm that is our backyard'.
Clive Simms specialist grower of nut trees and uncommon fruits for the edible garden.
greenZoo walks in a botanical garden.

SlugX an environmentally friendly slug trap.

Goblinproofing One's Chicken Coup practical advice from Reginald Blakely at Wonderella.

Garden Spot Erica's gardening journal, Texas.
Wild Food

"Wildman" Steve Brill: learn about edible and medicinal wild plants and mushrooms, nature and ecology with New York's best-known Naturalist (Steve was arrested by the park authorities in Central Park for collecting wild food!).
Caricature by Marian Oken

Arts and Crafts
Tom Wood Hong Kong artist now living in Halifax, West Yorkshire
Allan Lake, of Kirkburton, Huddersfield: sculpted furniture very much inspired by nature.
Leafages mixed media artwork by Hazel Kahan.
Judicael Strings makers and repairers of violins, electric violins and guitars at the Piece Hall, Halifax.

Solway Dory For canoes, canoe sailing and small boat rigs.

Wilf Lunn 'you will learn something new every day if you're not careful'
Diaries, Journals and Home Schooling
Blackberry Creek Journal, a country newsletter about the seasons, animals, gardens and people of a small Michigan farm.
Notes from Pure Land Mountain, journal of an American living in countryside Japan.
JohnDoe Neighborhood a community of online diarists.

Charlotte Mason, 1842-1923, an innovative educator who lived most of her life in Ambleside. If you need any encouragement, Karen Rackliffe's book Wild Days, Creating Discovery Journals might inspire you to start a nature notebook.
Lair Log Rheba Kramer Mitchell's digital art from a Texas wildscape.
Penny Bun fungi, photography and rambles
A Childhood Saved Brad Hurley's naturalist's notebooks and sketches from the early 1970s, 40 miles north of New York City.
Danny Gregory, need a spot of inspiration and encouragement to get creative? Take a look at Danny's site and his books Everyday Matters and Creative License.

Richard Bell,
wildlife illustrator
E-mail; 'richard@willowisland.co.uk'

Wild West Yorkshire home page