The Golden Fleece

Tuesday, 30th January 2001, West Yorkshire






This Month Rocks History Workshop Links Home Page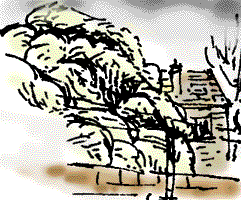 IN THE FELLMONGER'S YARD in Flushdyke, Ossett, fleeces are stacked up, a reminder of one of the trades which, along with woollen cloth manufacture, established the town as an industrial centre in Victorian times.

A fellmonger is someone who prepares skins for leather-making.


Ossett and Ossettia

Near the Black Sea there is an area called Ossettia. Today's 700,000 North and South Ossettians are herdsmen and horsemen, probably descended from the Scythian warrior nomads of ancient Greek times.


Like the first settlers of Yorkshire they use the word 'Don' for river and, like the people of Ossett, they chose the fleece as an emblem. A fleece being fashioned into a garment is shown on a Scythian chief's gold regalia of around 500 B.C. (left).



A fleece also appears at the centre of Ossett's coat of arms, seen here in a carving on the Town Hall (right).



Is there a connection? Some versions of the Greek legend of Jason and the Argonauts tell us that on his long homeward voyage Jason took the Golden Fleece by river journey from the Black Sea to the North Sea – a route well known to the Vikings who are thought to have founded Ossett.

Ossett is a Viking place name which may mean 'Osla's seat' or 'ridge camp'.

The dragon's head, is also from the Town Hall which was built 1905-8. There seems to be a hint of the town's Viking past in this carving!

For more about Ossettia see;
Searching for the Scythians, National Geographic, September 1996.

Adapted from my booklet Around Old Ossett, ISBN 1-902467-01-9, price £2.95, available through bookshops or (post free in the UK) from me, please e-mail me for details.



Richard Bell,
wildlife illustrator
E-mail; 'richard@willowisland.co.uk'

Next page Previous page This day last year This month Nature Diary Home Page