Ivy Trees

6th January 2001, West Yorkshire






This Month Rocks History Workshop Links Home Page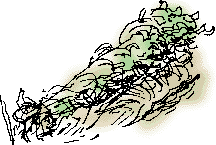 SOME OF THE TREES in the old hedgerow along the edge of the wood look like evergreens. They remind me of Holm Oaks, which don't occur naturally here. They are festooned in Ivy, which has climbed the trunk and covered every branch.

In recent storms, one ivy-covered Ash bough has crashed down right across the stream.



It's quiet in the wood this afternoon. Small flocks of Wood Pigeons wheel about above the tree tops, a Robin pops up from amongst the brambles while parties of Great and Blue Tits make their way through the hedges.



There's no sign of Bluebell shoots or Wild Garlic as yet, but alongside the path there are fresh growths of the fern-like leaves of Hedge Parsley.



Richard Bell,
wildlife illustrator
E-mail; 'richard@willowisland.co.uk'

Next page Previous page This day last year This month Nature Diary Home Page