Over the Arches

13th December 2001, West Yorkshire






This Month Rocks History Workshop Links Home Page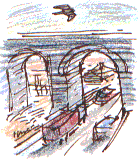 A SPARROWHAWK flies high above the traffic, just above the top of the old grey-brick railway viaduct.



A Wren hops about beneath the dead fronds of a fern at the edge of the pond, which is free of ice today.

A Robin sits on the back of the garden bench.


Worker's Cottage?

On my errands I often drive past a small-holding near the junction of Spa Street and Baptist Lane, Ossett. Amongst the huts and enclosures made of recycled timbers there is a small stone-built hut. It would be just about big enough to park a large car in. It looks to me as if this might be a worker's cottage dating from the early 19th century.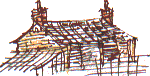 Two brick chimneys have been added to the original stone structure. Stone tiles have been stripped from the roof at the rear of the building. Stone thieves are a menace in our area, steadily wiping out the traces of centuries of our history from urban and rural settings.


Joseph Charlesworth, Collier
In a report on the Families of Six Colliers in Flockton, 1841 the inspectors visited Joseph Charlesworth and his wife Anne who lived in a house no larger than this with their four children.

Wages per week; £0.15.0d

Rent of House; 9½d.

Size of Rooms: House (6ft x 4ft), Bed-room (5 x 3½ft).

'His house is rather close,' wrote the inspectors, 'the light and air being much impeded by the cages of six larks being hung in the small window. He has worked with one master for 12 years.

'This person is a good and regular worker, but extremely negligent of his religious duties spending the Sabbath in smoking and feeding his birds.'



Richard Bell,
wildlife illustrator
E-mail; 'richard@willowisland.co.uk'

Next page Previous page This day last year This month Nature Diary Home Page