Larvikite

Tuesday, 13th February 2001, West Yorkshire






This Month Rocks History Workshop Links Home Page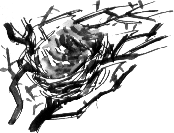 A CARRION CROW sits on the corner of the fried chicken takeaway. Around the retail park there seems to be a crow perched on every other lamp post. In the centre of Wakefield, high in the branches of a sycamore in the old Quaker burial ground, a Magpie perches by a large twiggy nest. The muddied grass below is starting to look fresher as clumps of Daffodil leaves begin to spring up.



There is history in the pavements here; the memorial stones now serve as paving slabs.



There's deeper, more ancient history in the walls of the Argos catalogue store in Westgate. Large blue grey crystals sparkle like the iridescent wings of a tropical butterfly. These are feldspars that formed in a mass of molten rock deep underground. This igneous rock, known as Larvikite, is polished for use as a decorative stone. Larvikite is usually found in sills, where molten rock has intruded into the bedding planes between existing rock layers.



Richard Bell,
wildlife illustrator
E-mail; 'richard@willowisland.co.uk'

Next page Previous page This day last year This month Nature Diary Home Page