Afternoon Rain

Friday, 1st February 2002, West Yorkshire



Rocks History Workshop Links Home Page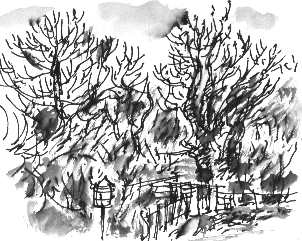 AFTER A DAY with my head down in the studio, still working to complete a freelance commission as I have been throughout most of January, I feel that it's about time I took a look at the outside world.

I take my sketchbook out of the drawer, pick up the nearest pen, and sketch the view from the studio window; a corner of muddy meadow at the edge of the wood, under the grey skies of a dreary late afternoon.

Within a few minutes the drizzle has developed into gentle lashings of rain. The girls continue feeding the ponies.




I add a bit of tone to the sketch by dabbing the pen and ink with a watercolour brush dipped in plain water. By now the skylight window is bleary with rain, so I have to half open it to peer out at my subject.

The cool air smells of rain and woodland. There's a soft pattering and the swish of wind on the bare branches of the ashes and willows.

Talking of Wind in the Willows, I'm reminded of the opening scene of Kenneth Grahame's classic where the mole is getting tired of his stay-at-home indoor life and longing for the great outdoors. I know how he felt.



Richard Bell,
wildlife illustrator
E-mail; 'richard@willowisland.co.uk'

Next page Previous page This day last year Nature Diary Home Page