Wetland Centre

Saturday, 2nd March 2002,
Washington, Tyne and Wear




Rocks History Workshop Links Home Page



EVERY CITY should have a wetlands park. Here at Washington, Tyne and Wear, the Wildfowl and Wetlands Trust Centre, with its ponds, wetlands and woodland lies between at tidal stretch of the river Wear and the grey glass citadel of the Excel logistics centre on the slope above. From a distance the low-rise log cabin buildings of the park's shop and education centre melt into the landscape because the low-pitched roofs are planted with tussocky grass.

A collection of wildfowl from around the world forms the central attraction of the park but, when you've seen enough of exotic ducks, geese and flamingos you can wander off into Hawthorn Wood at the eastern end of the park and watch woodland birds at the winter feeding hide.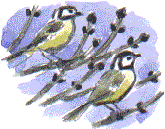 A small grey male sparrowhawk flits in past the bird table and peanut feeders but fails to catch one of the numerous blue, coal and great tits, which soon return to feed.



Pheasants and moorhens pick up the spilt grain and nuts. Two male bullfinches come to the top of an overgrown hawthorn. Their breasts glow coral pink. The slate grey of the back and wing feathers emphasises the strength of colour. Even the orange red of the robin's breast seems a little subdued by comparison.


Mad about a Mandarin
As we sit overlooking a wildfowl pond in the café, we witness a love triangle drama amongst the ducks. A handsome mandarin drake stands beside his duck on the bank. Swimming towards them is a drake goldeneye, his head nodding at break-neck speed in display. He keeps up the display as he goose-steps out on land, approaches the couple then lashes out at the mandarin drake. The goldeneye is a beak's length bigger than his oriental rival and he soon chases him off into the water.

Unfortunately for the inscrutable drake there doesn't seem to be a duck version of kung fu that would work against this bully.

When the commotion subsides the mandarin takes up his place beside the female again, puffing out his chest to make himself look as imposing as possible.

Soon the besotted goldeneye is back. After another fight he drives off the male and swims off across the pond with the female mandarin.



Richard Bell,
wildlife illustrator
E-mail; 'richard@willowisland.co.uk'

Next page Previous page This day in 2000 This month Nature Diary Home Page