Spring Garden

Wednesday, 20th March 2002, West Yorkshire




This Month Rocks History Workshop Links Home Page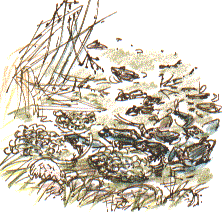 There was a croaking in the night and this morning there are nine fresh clumps of frog spawn lodged by a clump of iris leaves at the far edge of the pond. Elsewhere in the area there has been frog spawn for weeks. On our north-facing slope of the valley we tend to be a bit behind. It is probably the warmer weather over the past couple of days that has finally brought the females to the pond. The males have been patiently waiting around the edges for some weeks now.

A starling with not a mark on it lies dead by the bird table. Perhaps it flew into our patio windows.

I half consider drawing it but when I look out later it has gone. Perhaps a cat has made off with it?

Along the disputed border of the garden path the rival blackbirds continue to battle it out.



Richard Bell,
wildlife illustrator
E-mail; 'richard@willowisland.co.uk'

Next page Previous page This day in 2000 This month Nature Diary Home Page