Dangerous Corner

Saturday, 23rd March 2002, West Yorkshire




This Month Rocks History Workshop Links Home Page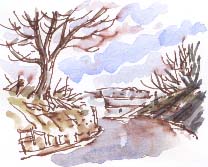 There are two right-angled bends within a few yards on Blacker Lane, between Netherton and Calder Grove, south-west of Wakefield. You often come across such kinks on the boundary between two parishes. A possible explanation is that the route was originally planned by surveyors working independently in the adjoining parishes, perhaps when open fields and common land were enclosed. In those days of horse-drawn transport the layout of new field boundaries within the parish might have taken precedent over a slight discrepancy in the alignment of the road.



Blackthorn is in blossom in a fragment of hedgerow nearby.

The Ordnance Survey map of 1841 shows the kink and also a fork to the west, now marked by a footpath. At the fork the road goes through a little cutting. Sandstone quarried here might have provided the material for the drystone walls which were a feature of Blacker Lane before they fell into disrepair and were removed by stone thieves.


Coal Pits Clough
Every generation leaves its mark on the landscape. What the 1841 map calls Coal Pit Clough, a mile to the west of the bend, is now mainly pasture. It was opencast mined then restored as farmland in the 1970s.



Overlooking it at the wooded sandstone ridge of Hartley Bank stone thieves have stripped out Yorkshire stone flags which were put in a century or two ago to support a steep banking. Today a mobile phone mast marks the crest of the ridge. In the lane end next to it fly-tippers have recently deposited an acrylic bath.


Scanning the Landscape

Today I've finally, with the help of my friends, got my computer fully working and my new scanner connected. My problems started six weeks ago when, in a rush, I switched off the computer at the plug. Since then I've crashed my system again by trying to install the driver for my old scanner and I've had to deal with an e-mail virus.

It's wonderful to have access to a scanner again. I feel that in the five years since I bought my first scanner it has become almost as essential to me as my pen, watercolours and sketchbook.



Richard Bell,
wildlife illustrator
E-mail; 'richard@willowisland.co.uk'

Next page Previous page This day last year This month Nature Diary Home Page