First Chiff-chaff

Monday, 25th March 2002, West Yorkshire




This Month Rocks History Workshop Links Home Page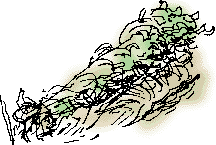 One of the trees in the hedge alongside the meadow at the entrance to the woods has blown down. I say tree, but when I examine it more closely it's more the ghost of a tree. It's so wrapped up in ivy that you can hardly spot the trunk. Was the tree supporting the ivy, or was the ivy supporting the tree?

This was probably a wych elm; they have been dying back since they were struck by Dutch elm disease over 20 years ago. The disease hasn't entirely eradicated the elm; they spring from the ground as suckers around the skeleton trees. Tiny leaves are unfolding on the twigs.

It's a good morning for birds; we hear our first chiff-chaff of the year singing in the wood. It may have just returned from wintering quarters in Africa, or it may be one of the growing number that winter here.



When we pause to look at a mass of frothy blackthorn blossom on the Balk we spot three sparrows. With binoculars we're able to tell that they're tree sparrows, which have brown caps (rather than grey like the house sparrow) and a dark spot on the cheek. As they fly off they give what one book describes as 'a rather hoarse 'tek-tek' flight note'.

By the canal we see a pair of yellowhammers, a treecreeper, long-tailed tits and what we assume is a great spotted woodpecker, to judge by its undulating flight as it leaves the top of a larch tree.





Lost Causey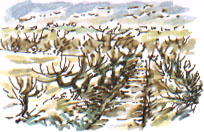 I was writing about the scourge of the stone thieves only this weekend. They've been at it again. Ten yards of the causey stone path have been stripped of their large Yorkshire stone slabs. Another stretch lower down the slope was robbed out about 15 years ago and the path there now turns to mud and running water during wet spells.

I have a feeling that the bulk of 'recycled' stone that's available these days is simply plundered from the countryside, wiping out centuries of history and leaving our fields and hedges in a despoiled state. If Stonehenge were in West Yorkshire the sarsens would have been stripped away by now, a pile of tyres and discarded baths would have taken their place and some developer would have his eye on the site for redevelopment as a retail park and housing estate.



Richard Bell,
wildlife illustrator
E-mail; 'richard@willowisland.co.uk'

Next page Previous page This day last year This month Nature Diary Home Page