The Bright Wings of Spring

Thursday, 4th April 2002, West Yorkshire




Rocks History Workshop Links Home Page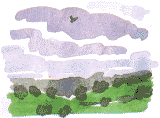 While walking down the Balk into a misty valley we get a closer than usual view of a skylark. This one flies horizontally as it sings, veers back then lands within 30 yards of us on the short grass of a pasture. I'm more used to squinting to see the dot of a singing skylark against a bright sky or seeing them land far away in the middle of an open tract before they vanish amongst the grasses.



A mistle thrush sings its clear song from the apex of a pylon.

The blackbird outside our window started his more mellow, melodious song at 5.35 this morning.



A red-tailed bumble bee flies past us in the wood.



The ducklings, 12 of them, are still there on the marsh but there's no sign of the female. Perhaps the two mallard drakes have temporarily driven her off.



The sentinel lapwing is still on guard. He (I presume the female is sitting on the eggs) flies across the canal in front of us.



Later in the day it's insects rather than birds that seem most active. Small tortoiseshells chase away bumble bees and their butterfly rivals along a nettly lane-side verge. The nettle is the food-plant of their caterpillars.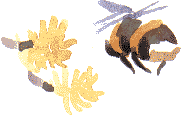 Three bumble bees visit the catkins of a pussy willow.



Richard Bell,
wildlife illustrator
E-mail; 'richard@willowisland.co.uk'

Next page Previous page This day in 2000 This month Nature Diary Home Page