Stile Guru

Thursday, 23rd May 2002, West Yorkshire




Rocks | History | Workshop | Links | Home Page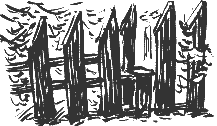 On our regular walk around the valley Barbara and I are struck by this new stile which has recently been erected at the end of the footpath that branches off the towpath and follows the edge of a disused mineral railway embankment. Generations of miners followed this path, crossing the river alongside the railway, on their way from Horbury to Hartley Bank colliery which closed in the late 1960s.

With its mitred railway sleepers the stile is almost a piece of sculpture, so why not look at it as a piece of public art;

'Seven Sleepers' explores the dilemma of freedom versus prohibition. It subverts our expectations; what at first sight appears to be a barrier turns out to offer a narrow access to the green space beyond.

It's interactive; the artist has smeared most of the structure with a black gunge which should leave a lasting impression on any child or dog that happens to brush against it.

The salvaged railway sleepers give its brutal war zone design an ironic post-industrial twist and, as objets trouvés, go some way to help the structure harmonise with the old railway, now colonised by birches and oaks, alongside.

This is the latest of a series of installations by a well known local artist who has already enhanced the beauty of several local footpaths with similar structures. There is no disabled access and those with push chairs, white dogs and light coloured trousers are advised to approach with caution.


Richard Bell,
wildlife illustrator
E-mail; 'richard@willowisland.co.uk'

Next page | Previous page | This day in 2000 | This month | Nature Diary | Home Page