When the Chips are Down

Saturday, 4th May 2002, West Yorkshire




Rocks | History | Workshop | Links | Home Page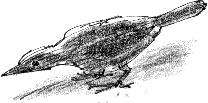 The first we see of the accident is a kitchen assistant running out into the narrow road between passing cars to pick up dozens of pieces of chipped potatoes that have evidently just been spilt from the large bucket that he's carrying. We watch from our table by the window as, within a few minutes, he's picks up all he can. The passing traffic converts most of the rest from chips into mashed potato.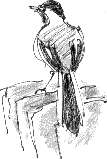 Soon a carrion crow which has been doing its rounds over the upland fields spots the spill. It manages to hold four fragments in its bill before escaping just in time when a passing car threatens to add the crow itself to the menu of road casualties. It soon returns and, between interruptions, it manages to pick off most of the remaining fragments.

A pied wagtail hops from stone to stone on top of the drystone wall opposite.



Richard Bell,
wildlife illustrator
E-mail; 'richard@willowisland.co.uk'

Next page Previous page | This day in 2000 | This month | Nature Diary | Home Page