The Swillington Site

Monday, 6th May 2002, West Yorkshire




Rocks | History | Workshop | Links | Home Page




On Astley Lake, Swillington, some twenty cormorants stand on one of the small islands. There are about forty lesser black-backed gulls on the water nearby. One cormorant dives in the river, surfacing then swimming along by the bank with little more than its snake-like neck showing above the water. Cormorants always seem to have a worried look when they swim along like this. It's as if they're aware that you're watching them and they're embarassed to have been spotted.



There are dozens of tufted duck spread out along the quieter section of the river upstream from the lake. A grey heron stands midstream in the overflow outlet of the canal by Lemonroyd lock.



As far as I know there's no public access to Astley lake but you can see it from the bank of the river Aire opposite by following Fleet Lane from Oulton to the riverside. The Leeds Country Way and the north south spur of the Trans Pennine Trail follow riverside and towpath along this stretch of the Aire valley.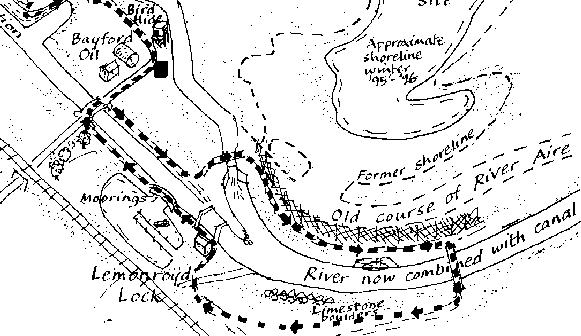 On half a dozen visits during the past ten years I've seen big changes on this stretch of the Aire. Opposite Lemonroyd Lock on the Aire and Calder Navigation there's currently a broad featureless plain. It's hard to believe now that this was the place where the river Aire poured into a huge opencast site, St Aidan's, when the river bank gave way, creating a large deep lake. My sketch map shows the site in 1996. Once the necessary river diversion had been made this was pumped out, the opencast mining for coal was completed and the site levelled off.

For almost 30 years, local birdwatchers have been hoping that the site will eventually be restored as a wetland nature reserve with reedbeds, open water, islands and marsh. It seems to be a long time coming.



In the meantime it's surprising how quickly willows, which were no more than whips planted along the new stretch of riverside just a few years ago, have grown up to form belts of young woodland.

French (or red-legged) partridge, skylark and pheasant appreciate the scrubby ground at the edge of the opencast site.




I see my first swifts circling over the river. Swallows are circling closer to the ground. One of them pauses briefly on the window ledge of an outbuilding, then flies inside.



Richard Bell,
wildlife illustrator
E-mail; 'richard@willowisland.co.uk'

Next page Previous page | This day in 2000 | This month | Nature Diary | Home Page