The Garden Shed

Wednesday, 19th June 2002, West Yorkshire




Rocks | History | Workshop | Links | Home Page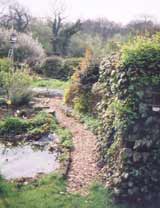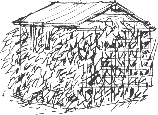 The large bush in the foreground of the photograph is actually our garden shed. The roof sprang a leak in the winter, so today I've given it a haircut before we get it re-covered in roofing felt.

I could reach most of the overhanging hawthorn, elder, honeysuckle and ivy from a ladder but get to the final bits and pieces I climbed on the roof and sat there in the sunshine clipping back the hedge. If you've ever been that situation you'll probably guess what happened next.

The phone rang in the house. Luckily Barbara was in. It was a business call;

'Is Richard there please?'

'Well he's actually on top of the garden shed at the moment', she replied.

I've asked her in future to say 'He's in a meeting at the moment, can I get him to ring you back?'!


Two Tips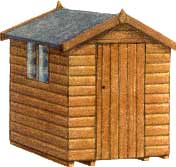 I've mentioned before the make-do-and-mend culture associated with the garden shed. A dying tradition unfortunately, when, as is usually the case these days, it's cheaper to go out and buy a new item than it is to buy the parts and tools and spend time tinkering about.

But I revive the art today. My dad's soil steriliser, which has spent the last 30 odd years in one garden shed or another, is good as new when I replace the old, partly rusty plug with a rubber-armoured one salvaged from elsewhere.

And I'm pleased with my repair job on a garden chair. A slat had broken along the line of a knot in the wood. I found just the right size of timber, a piece salvaged from some job around the house, in the garden shed and, within half and hour, I'd cut it to size, sanded it, nailed it in place and painted it to match. You wouldn't know it had been repaired now.

But, when I first broke it a couple of weeks ago, I had a spot of do-it-yourself advice from my mum;

'Have you got some string; we could bind it as a temporary repair.'

'Or have you got an old breadboard', her friend Thelma chipped in, 'you could nail that on to support it.'

The make-do-and-mend tradition lives on. Either of those suggestions would have taken about as long as my 'good-as-new' repair and they wouldn't have been as effective, but, I have to admit, they would have added a certain character to the chair.

The other tip; when you're cutting the hedge don't you just hate picking up the trimmings afterwards? Try spreading out an old shower curtain over the plants below to catch the trimmings.


The Garden Expert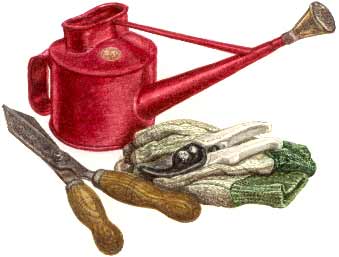 I painted the shed when it was new. Let me rephrase that; I painted an illustration (above, right) of the shed when it was new. It and the watering can (left) were painted as samples when I was working on artwork for two books in the Garden Expert series written by Dr Hessayon. Neither of these sample illustrations was published.

It still gives me a glow of pride to spot The Bedding Plant Expert or The Fruit Expert in a garden centre and to see that they're still using some of my artwork in the updated edition. It's been a phenomenally successful series. The House Plant Expert, for instance, is described as the world's best-selling book on house plants with over 9 million copies sold since the first edition in 1960 (I didn't work on that one by the way, I was only 9 at the time).

My favourite in the series is The Lawn Expert; it's such a lucid treatment of a familiar garden habitat. It gives clear descriptions of what to the lawn fanatic are troublesome weeds but which for me are wild flowers to be enjoyed.

I'm pleased to have been associated, even in a minor way, with such a success. They're such useful books and, who knows, my two first editions signed by the author might worth a bob or two one day. But I wouldn't part with them.



Richard Bell,
wildlife illustrator
E-mail; 'richard@willowisland.co.uk'

Next page | Previous page | This day in 2000 | This month | Nature Diary | Home Page