Hill Fox

Thursday, 18th July 2002, North Yorkshire




Rocks | History | Workshop | Links | Home Page



We've veered away from the classic landscape trail around Malham (via Janet's Foss, Gordale, the Tarn and back via the Cove) this afternoon to photograph the old smelt mill out on the moor at Streets near Trenhouse on Malham Moor. There's no public access so I photograph the restored chimney from the quiet road nearby.




Suddenly we catch sight of a fox running parallel to the road just a stone's throw from us. It lollops over the rough ground in an easy, relaxed way, covering the distance in half the time that the fastest human runner could manage, and it all seems so effortless that I feel it could keep the pace up for miles. With its neat ear markings, its red brown coat and its full bushy tail there's nothing mangy about this individual.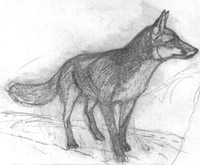 It's not just us who notices it. Soon four crows fly across the moor to see it off, calling in a chorus of disapproval. They escort the fox down into a dip and up the adjacent slope (this is the dip where a stream sinks into the moor to emerge one and a half miles to the south east at the foot of the cove).



Within less than two minutes the fox has disappeared over the next undulation of the moor while the crows head off to perch on the smelt chimney. The sheep gathered around the chimney which had been looking so bored have had a grandstand view of the action and they continue to stare intently in the direction that the fox headed.



Richard Bell,
wildlife illustrator
E-mail; 'richard@willowisland.co.uk'

Next page | Previous page | This day in 2000 | This month | Nature Diary | Home Page