Storrs Hill

Monday, 8th July 2002, West Yorkshire




Rocks | History | Workshop | Links | Home Page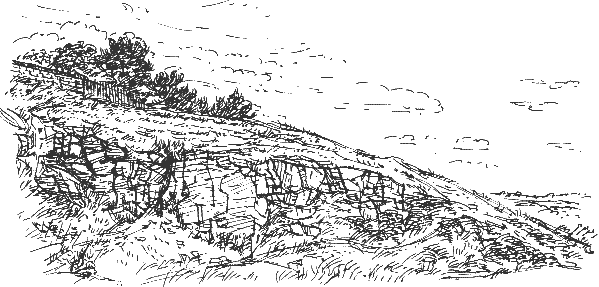 Storrs Hill is the last wild, well wildish, open space that you can go to for a breath of fresh air between the small towns of Horbury and Ossett in the Calder valley. For a while I've had an idea that I'd like to write a little book on it and this afternoon I eventually get myself up there for an hour or two to make this sketch.



As I approach the hill past the roadside litter and start climbing the rocky footpath up a gully between overhanging grass stems I think, 'this is ridiculous, who'd want to set foot here, let alone read a book about it!' But then a gatekeeper butterfly flies up from the wood sage at the side of the track, as if to greet me (it's probably just defending its territory from all comers, large or small).

At the top of the gully a tall pylon stands overlooking the valley, like the mysterious Iron Man in the Ted Hughes story.

What shall I draw? I sit on the ridge above a small quarry face. It's too windy to draw the panorama of the valley with moor tops of the Peak District and the south Pennines just showing as a thin blue band beyond the nearer hills.

To get my bearings I walk a short circuit of the hill following the adjoining road, turning back down Matty Marsden Lane and returning by the rocky gully again, disturbing the gatekeeper a second time. There are at least half a dozen things I could draw but I decide to go for the main quarry, which to me is the central motif of the hill.


On Chicken Feather Wings
It's only when I stop and sit and draw that it begins to sink in how much this place means to me. As a boy I walked across the hill every day on my way to and from school. The sky, the panorama, the rocks and the gorse-clad slopes were such a contrast to the subjects and predicates, the sines and cosines that I had to grapple with at the grammar school.

Each rock here seems to have a memory attached to it. I remember the routes, some easy, others more challenging, that I climbed on the way back from school, or with friends during the school holidays. The ledges, joints and flaggy stones at the top of the quarry all had there own personality. I'm sure there was even a tiny cave in the corner.

My brother and I even made a film here, way before the days of video - this was on Kodachrome standard 8. We launched a flying machine, made of a salvaged bike with wings decked out with chicken feathers collected at the farm at the foot of the slope.

A Daedelus myth for our time.



Richard Bell,
wildlife illustrator
E-mail; 'richard@willowisland.co.uk'

Next page | Previous page | This day in 2000 | This month Nature Diary | Home Page