High Pressure

Tuesday, 17th September 2002, West Yorkshire




Rocks | History | Workshop | Links | Home Page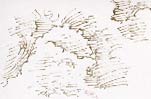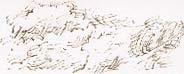 With the barometer up to 1020 mb (that's millibars, not megabytes) across the country we're enjoying a spell of dry, settled weather. The skies are dull with occasional brightness, not dramatic but there is some structure in a grey and subtle way. The temperature, around 16 centigrade, is average for the time of year.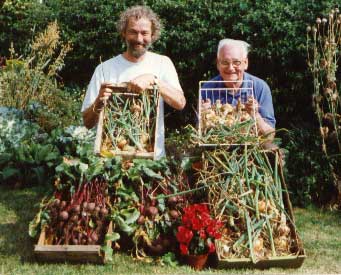 Remembering Dad
Bill Ellis
We're remembering Barbara's dad, William Ellis (1919-97), who died, aged 77, five years ago today. He served in the army in North Africa and Italy with the Green Howards during the second world war and, in civilian life, worked for the co-op and for Charles Robert's railway wagon-works at Horbury, near Wakefield.

Looking at this picture of him and myself taken about late August 1996 Barbara's comment was; 'Just think how much we'd get from our garden if my dad was still here!'

Of course it isn't just once a year that we miss him. Whenever I'm working in the garden I find myself thinking of the projects we tackled together.


Doug Bell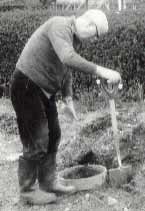 As it happens my father, Robert Douglas Bell (1918-1990; he got 'Doug' from friends) died twelve years ago yesterday. He too served in North Africa - in the 37th Light Anti-Aircraft Regiment, RA, - but in 1942 he took a posting as a military policeman with the Special Investigations Branch, Middle East Forces, in Cairo by the time the front moved on to Italy. He worked as an accountant - ultimately as area chief accountant - for the National Coal Board at Newton Hill, Wakefield and later at Grimethorpe.

Sadly I never worked with my dad in the garden as much as I did with Barbara's dad. As a schoolboy and student I never settled down to gardening and by the time I did become more interested, when Barbara and I married and moved here 19 years ago, he was suffering from the first stages of the Alzheimer's disease (or a very similar condition) that would eventually lead to his death.

In Jehovah's Witness pamphlets heaven is often portrayed as a place populated by squeaky clean people disporting themselves, in the company of lions and lambs, amongst designer shrubberies on
neatly manicured lawns. If there is a heaven waiting for me (which I doubt!) I hope it's a rather down-at-heel back garden or vegetable allotment.

In the portrait of my dad (right) taken on convocation day in June 1975 at the Royal College of Art the view of the roof of the Royal Albert Hall, and the birds and plants, in the background is the right hand end of my greenhouse mural, my graduation piece.



Richard Bell,
wildlife illustrator
E-mail; 'richard@willowisland.co.uk'

Next page | Previous page | This day last year | This month | Nature Diary | Home Page