Majestic Palm

Thursday, 23rd January 2003, South Yorkshire




Rocks | History | Workshop | Links | Home Page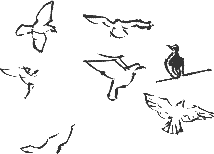 Town pigeons fly to the top of a building in the city canyon that is the Moor, Sheffield.
It's sunny day and the pedestrian areas, the street traders and cafés, the supertrams and the new fountains give us a feeling of being in a continental city. Not that we can forget that we're in a Yorkshire city with a history; my Mum is with us and she vividly remembers the city before, during and immediately after the Second World War;
Here's where she applied to get a gas cooker and was turned down; she had a primus stove and a kitchen range so she wasn't a priority case. Here's what used to be Cole's Corner where she waited for my Dad and spotted him striding up the pavement in his army uniform, and there's where she got caught in front of tram while cycling and had to pedal like mad to get out of it's way!
In fact, as she knows the city so well, why isn't she writing a guest diary today?
The Winter Gardens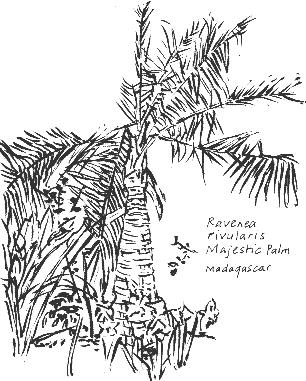 We're here today to visit the latest structure to open its doors in the city centre; the Winter Gardens, a state of the art greenhouse, which houses a collection of palms, tree ferns and other plants. They've been chosen as species that are tolerant of fairly cool conditions but they do need protection from frost.
Some of the tree ferns are from New Zealand but this Majestic Palm, Ravenea rivularis, is a Madagascan species.
The greenhouse is such a pleasant place to draw with its sturdy benches, its lofty, airy space, wonderful light and its fascinating collection of plants. There's even a handy coffee shop, I like that touch. Yes, people do have a habitat of stopping to look at the plant you're drawing and blocking your view, but they soon move on!
'What's that little plant, Doris?' a visitor asks her friend.
'Mind your own business!' says Doris, leaning over and reading the common name of this ground-cover plant, Soleirolia soleirolii, also known as Baby's Tears.
'One who can SEE'
While I'm sketching my Mum and Barbara wander off and discover the Ruskin Gallery; a small gallery in the adjoining arcade cleverly designed to fit into the dimensions of an average boutique. The nineteenth century paintings, prints and drawings, the natural history specimens, computer displays and specially commissioned sculptures are set out very much as if this was an upmarket shop with inviting alcoves and varied lighting effects. Visitors seem totally at ease and absorbed, just like shoppers browsing. They seem to me to be more at ease than they would be in the minimalist white spaces of some galleries.
Sketching equipment and folding stools are available. I could spend the day here, between the gallery and the palm house.
John Ruskin (1819-1900), had connections with the city and strongly believed in giving everyone access to art, nature and education. At the centre of the window display there's the following quote from his Modern Painters (1856), a book which he felt compelled to start writing when his hero Turner came under attack from the critics.
the greatest thing a human soul ever does in this world is to see something, and tell what it saw in a plain way. Hundreds of people can talk for one who can think, but thousands can think for one who can SEE.


Richard Bell,
wildlife illustrator
E-mail; 'richard@willowisland.co.uk'

Next page | Previous page | This day in 2000 | This month | Nature Diary | Home Page