Pennine Pasture
Sunday, 19th October 2003
Richard Bell's Wild West Yorkshire nature diary


Previous Page | This Month | Home Page | Next Page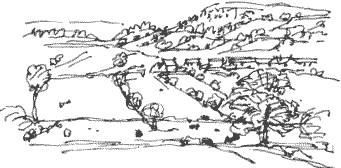 On a walk from New Mills we take a picnic break by the edge of a ridge-top strip of beech woodland overlooking sheep and cattle pasture around the hamlet of Fulstone.


A kestrel flies low over the drystone wall next to us and perches nearby on a power line, resting then preening, as we eat.

Wood pigeons fly across in front of us; although this is Pennine pasture at around 230 metres (around 750 feet) above sea level, there are plenty of hedgerow trees along the boundaries and woodlands on the steeper slopes, like the belt of beech and hollies on the ridge behind us, which rises to 250 metres.
Jays make a commotion in a clump of trees ahead.

'Toft and Croft'
The long thin shapes of the fields around the village suggest to me that Fulstone once had it's own system of open fields (which would probably date from Saxon times) which has since been enclosed. Another explanation might be that a 'toft and croft' pattern existed here. The toft was a strip of land associated with a cottage.

This view from a bench by the track above the Crossroads Inn (formerly known as the 'Toss o' Coin') a mile or so further round on our walk above New Mills shows the higher moorland beyond these pastures. The saddle-backed hill in the distance is Shooters Hill.



richard@willowisland.co.uk


Previous Page | This Month | This day in 2001 | Home Page | Next Page