Everyday Matters
Thursday, 30th October 2003, page 3 of 4
Review of the book by Danny Gregory


Previous Page | This Month | Home Page | Next Page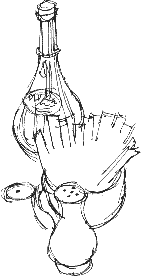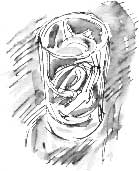 Whenever I've been in a gallery I find myself coming out and seeing the world through the eyes of the painters I've been looking at.
In the Café Azure (downstairs from the Millennium Gallery, Sheffield) there are no Blakeian Bogeymen or sun-drenched granite boulders but the still lives of Anne Redpath and Elizabeth Blackadder from the Scottish painters' exhibition are also resonating in my mind and I draw a glass with half-melted ice cubes and the water bottle (it's deep blue, as this is the Café Azure, but I haven't got time for watercolour). I dip my brush in the dregs of the water to finish my sketch, blotting the fountain pen ink of the drawing to produce a tonal wash.
Danny Gregory
Outside the special sanctuary of the art gallery a more streetwise inspiration for me recently has been New Yorker Danny Gregory's drawing-diary Everyday Matters, which, I discover when we call in at Waterstone's bookshop, is now available on this side of the Atlantic (for a preview, see the links below).
I look forward to seeing the book itself but just looking at his sketches online of . . .
chimney pots
the contents of cupboards
book shelves
bottles
people at home or in queues
assorted murderers (how did they get in?!)
shops
trucks and, my favourite,
'Booths and the people who work in them'

. . . I feel; 'yes, that's it, that's what it's all about!'
Here's one of the spreads from the book:
| | |
| --- | --- |
| | There's another page that sums up Gregory's philosophy: he's written 'NotHiNg to DRaW' in large felt-tip capitals in the centre of a spread and, surrounding that, simple sketches of the common objects that we so easily overlook, including 'the most beautiful garbage truck in the world'. |
| Booth by Danny Gregory. | |
The subtitle of Everyday Matters, published by Princetown Architectural Press, (ISBN 156898443X, £10.99, hardback) is 'a Story of Love and Recovery' and there's a great sense of joy in the quirkily observed details of everyday life. With it's humour, poignancy and delight in the everyday it's persuaded me to take a break from my habitual subjects of rumpled rhubarb and seeding dockweeds and enjoy a short break to try some other subjects for a change (but I'll still come back to rhubarb soon!).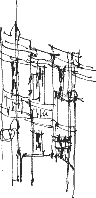 There are no booths in sight as we wait for the supertram by the Cathedral so I draw an ornate building, another Gregory favourite, opposite. That's as far as I got when the tram came!

Related Links
Danny Gregory - you need an up-to-date version of Flash to enjoy this innovative site. Anybody who attended school in the pre-video era should check out the 'film strip' link.
Everyday Matters an interview from The Morning News and extracts from the book.



richard@willowisland.co.uk


Previous Page | This Month | This day in 2000 | Home Page | Next Page