Domes of Granite
Thursday, 30th October 2003, page 2 of 4
Richard Bell's Wild West Yorkshire nature diary


Previous Page | This Month | Home Page | Next Page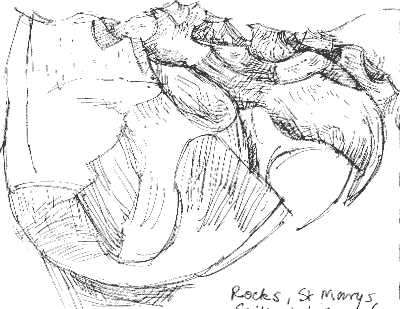 With limited time to explore the rest of the gallery I want to focus on a particular painting rather than striding around ticking off the canvases and reading the labels. There are loads of good things of course but to take them all in during a single hour would be like listening to a 'greatest hits' record; pleasant, indulgent but not necessarily artistically and emotionally satisfying.
Naturally this large oil painting of Rocks, St Marys, Scilly Isles appeals to me and I sketch it in fountain pen (above). It's in light sandy colours (the rocks are granite) with a blue summer sky and sea. It forms part of a show at the Graves Gallery of Scottish painters over the last 100 years, currently on loan from the city of Edinburgh fine art collection.
Barns-Graham
The artist, Wilhelmina Barns-Graham (b. 1912) painted it in 1953. Her fascination with rocks (and glaciers) developed during a visit to Switzerland in 1948. She worked in St Ives from 1940 along with Barbara Hepworth, Ben Nicolson, Peter Lanyon and others. She rates Roger Hilton as the most outstanding artist working there at the time but recalls, in an interview in the The Daily Telegraph (17/11/2001, see link at foot of page):
"He was a chauvinist, though. He once said to me, the woman's place is the basket, pointing to a big dog's basket on the floor. I also remember him looking at a painting of mine and saying, 'You can't put that red over that blue.' And I hit back, telling him to shut up, saying that I'd been painting all my life."
Still an active - and boldly abstract - painter 60 years later she says "Standing in front of the late Picassos in the exhibition at the Tate a dozen years ago, I felt very strongly his terrific sadness at getting older. And I feel that very much myself now. One's mind is so alive, but your body gives in."
Batholith
The Scilly Isles are an exposed offshore extension of the granite batholith that underlies Cornwall and much of Devon. A batholith is defined in the Shorter Oxford English Dictionary as:
'A large dome-shaped mass of igneous intrusive rock extending to unknown depth.'
I'd describe Barns-Graham's rocks as large, dome-shaped masses painted so that you get a hint of some presence in nature; some fiery, intrusive meaning, that goes to an unknown depth.

Related Link
Wilhelmina Barns-Graham on Richard Hamilton's Cat (1967). Interview by Martin Gayford, telegraph.co.uk


richard@willowisland.co.uk


Previous Page | This Month | This day in 2001 | Home Page | Next Page